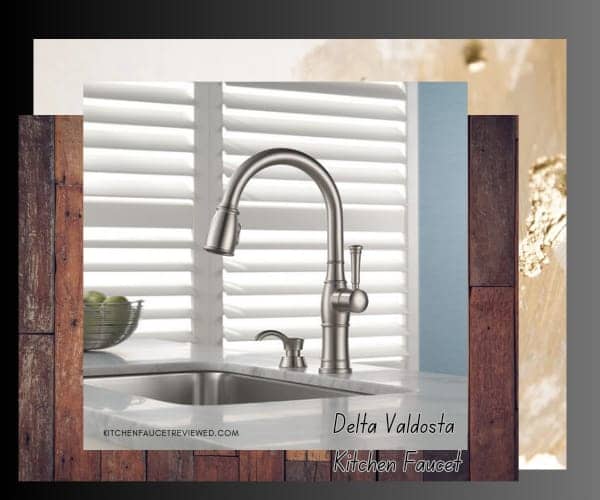 In the pursuit of aiding my readers in making informed decisions regarding their kitchen faucets, I have embarked upon a comprehensive examination of the Delta Valdosta kitchen faucet. Through meticulous scrutiny, spanning two days of dedicated evaluation, I have delved into every facet, dissected each feature, and assessed its overall quality.
Furthermore, I have left no stone unturned in scrutinizing the materials employed in its construction and dissecting the ensemble of elements that accompany this faucet.
For those who find themselves in pursuit of the quintessential Delta kitchen faucet, my commitment to delivering precise and exhaustive information compels you to accompany me on this enlightening journey to the very end of this article.
Herein, you shall find all the requisite details to assist you in determining whether the Delta Valdosta faucet aligns seamlessly with your needs and preferences. Thereby sparing you the undue expenditure of time and effort in your quest for the ideal kitchen fixture.
About Delta Valdosta kitchen faucet – At a Glance
The Delta Valdosta kitchen faucet is more than just a plumbing fixture; it's a masterful blend of convenience, aesthetics, and durability. With its stylish design, it effortlessly complements any kitchen, seamlessly transitioning between contemporary and classic aesthetics. When you're faced with the daunting task of selecting the ideal faucet for your home, the Valdosta emerges as a reassuring and versatile choice.
First and foremost, the magnetic docking mechanism is a game-changer. It prevents the pull-down sprayer from succumbing to the common ailment of drooping over time, ensuring that your faucet always looks and functions at its best. This feature not only adds to the faucet's longevity but also maintains the clean, uncluttered look of your kitchen.
Additionally, the Valdosta faucet comes equipped with cold and hot water indicators, enhancing user-friendliness. However, it's the single, user-friendly handle that truly stands out. This well-engineered handle makes turning the faucet on and off an effortless task, even for those with arthritic or sore hands. It's a testament to Delta's commitment to both style and accessibility.
What are the Best thing in this Model?
Design & Overall Look
When it comes to faucet selection, design is a pivotal criterion deserving of thoughtful consideration. The Delta Valdosta kitchen faucet emerges as a distinctive choice, admired for its specific design attributes.
A hallmark feature that garners widespread praise for the Delta Valdosta kitchen faucet is its unpretentious yet strikingly modern design. It effortlessly blends simplicity with a touch of contemporary elegance, making it an appealing choice for those seeking a refined aesthetic in their kitchen space.
One of the standout characteristics of the Delta Valdosta pull down kitchen faucet is its perfectly balanced size. It strikes a harmonious chord, commanding attention without overwhelming the surroundings. This size versatility ensures its adaptability to a wide range of kitchen configurations and styles.
Delta's reputation for crafting high-quality fixtures is exemplified in the Valdosta faucet. Boasting a full-metal brass frame, it not only radiates sturdiness but also conveys a sense of enduring sophistication. This commitment to craftsmanship ensures that the faucet stands the test of time, both in terms of functionality and aesthetics.
What truly distinguishes the Delta Valdosta kitchen faucet is its innovative spring spout. This feature has earned considerable acclaim for its remarkable responsiveness and practicality. Compared to other commercial-grade faucets from various brands, the Valdosta's spring spout outshines the competition. It enhances your kitchen experience by simplifying tasks such as filling pots and rinsing dishes, making them effortless and efficient.
Your Solution for Long-Lasting Cleanliness
In the pursuit of a spotless and pristine faucet or shower, Delta Valdosta kitchen faucet brings forth an innovation that ensures your fixtures remain clean and free from unsightly water stains and fingerprints. This groundbreaking advancement is none other than the ingenious SpotShield Technology. Let's delve into the science and functionality of this remarkable feature:
This technology is designed with the sole purpose of preserving the immaculate appearance of your Delta Valdosta kitchen faucet or shower. It achieves this by acting as a formidable shield against water stains and fingerprints, which are notorious for marring the beauty of fixtures. With SpotShield in place, you can bid farewell to the constant battle against smudges and marks.
The technology employs a precision-engineered stream of water that possesses the remarkable ability to cut through grime and residue with utmost efficiency. This concentrated stream ensures that even the most stubborn spots and stains are effortlessly washed away, leaving your faucet or shower gleaming and spot-free.
Delta Valdosta's SpotShield Technology goes a step further by incorporating a unique water barrier mechanism. This feature is instrumental in minimizing the splatter that often accompanies water flow.
Consequently, not only is cleanliness maintained, but the surrounding area remains free from water droplet spatter, contributing to a cleaner and more enjoyable experience.
Beyond its surface-preserving capabilities, the SpotShield feature offers an additional layer of protection. It inhibits the development of odor-causing microbes on the fixture's finish. This innovative finish protection ensures that your faucet or shower not only looks clean but also maintains a fresh and hygienic environment.
Revolutionizing Cleaning with Delta's ShieldSpray Technology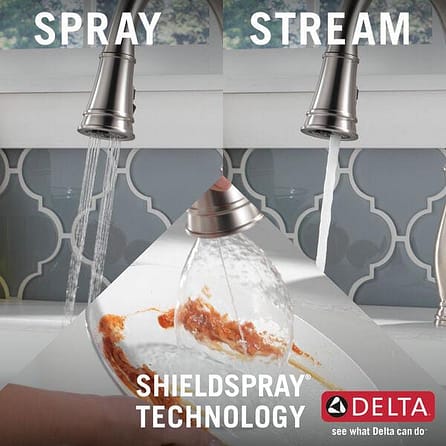 When it comes to tackling the persistent issue of mineral accumulation on faucet nozzles, the Delta Valdosta 19957Z-DST faucet rises above the competition with its innovative ShieldSpray Technology.
The standout feature of the Delta Valdosta 19957Z-DST faucet is its ability to click into place, allowing you to choose the direction of the water flow effortlessly. This level of control empowers users to direct the water precisely where it's needed, minimizing waste and maximizing efficiency.
The faucet's spray head is a true marvel, offering a spectrum of water flow options to suit various tasks. From a gentle mist for delicate rinsing to a robust downpour for tackling stubborn residue, this faucet adapts seamlessly to your needs, ensuring that every task is accomplished with ease and finesse.
Mineral buildup is a common woe in many households. However, the Delta Valdosta faucet incorporates soft rubber nozzles on its spray head. These nozzles allow users to effortlessly wipe away mineral deposits with their fingertips, instantly restoring the faucet's performance and appearance to a pristine state.
Delta's ShieldSpray Technology takes faucet cleaning to a whole new level with its laser-like accuracy. The focused jet it produces is a formidable tool for blasting away tough residues and stubborn debris, leaving your dishes and kitchen utensils spotless with minimal effort.
This ingenious feature traps splatter and debris, keeping the surrounding area clean and dry. No more time wasted on soaking, scrubbing, or changing shirts after a vigorous cleaning session.
Exceptional Durability and Longevity with Diamond Seal Technology
When it comes to lasting quality, the Delta Valdosta stands out as a remarkable choice. Crafted entirely from robust brass, this faucet is built to endure the test of time. What sets it apart is its innovative DIAMOND Seal Technology, which ensures that the internal connections remain exceptionally durable.
Say goodbye to worries about rust and oxidation, as this faucet is designed to maintain its impeccable appearance over the years. Plus, for those who appreciate the finer things in life, an exquisite high-end finish option is also available.
The Technology is not only a mark of innovation but also a guarantee of hassle-free installation. More importantly, it plays a pivotal role in extending the lifespan of your faucet. In fact, it doubles the industry standard, making your faucet last twice as long.
The unique design of Delta Valdosta faucets with Diamond Seal Technology eliminates any potential leak points, offering you peace of mind and a truly reliable faucet. Installing these faucets is a breeze, ensuring that your faucet continues to function flawlessly for a lifetime. With Delta Valdosta, you're not just investing in a faucet; you're investing in a lifetime of reliability and performance.
Touch-Clean Technology in Delta Valdosta Faucets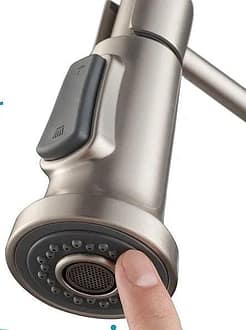 Imagine effortlessly ridding your faucet of stubborn calcium and lime buildup with just a gentle touch of your finger. This innovative feature, known as Touch-Clean, is at the heart of Delta Valdosta faucets, setting them apart as a symbol of convenience, durability, and high-quality craftsmanship.
One of the common frustrations homeowners face with faucets is the accumulation of calcium and lime deposits, which not only affects the faucet's appearance but also its performance. In response to this challenge, Delta Faucet Company has developed a game-changing solution – Touch-Clean technology.
Delta Valdosta kitchen faucets are equipped with specially designed Spray Holes that are remarkably easy to clean. By simply touching the faucet's surface, you can dislodge and wash away the mineral buildup that plagues many faucets over time. This intuitive process ensures that your faucet remains as pristine as the day it was installed, maintaining both its aesthetics and functionality.
Delta faucets have earned a reputation for longevity and high quality. Crafted with precision engineering and top-grade materials, they stand the test of time. When you choose a Delta Valdosta faucet, you're making an investment in a fixture that you can install with complete confidence.
Installation
Adaptability is one of the most eco-friendly features of this faucet. Designed to accommodate both 6″ and 8″ installations, it offers you the flexibility to choose the perfect fit for your kitchen setup. Whether you have a compact sink or a spacious countertop, this faucet has got you covered.
Delta goes the extra mile to ensure a hassle-free installation experience. When you purchase the Valdosta faucet, you'll receive all the necessary mounting equipment right out of the box. No need to make multiple trips to the hardware store or hunt down obscure components.
The Delta Valdosta kitchen faucet is equipped with 32 Inno-Flex supply lines, known for their durability and reliability. These supply lines are designed to withstand the test of time, ensuring that your faucet functions flawlessly for years to come. With this faucet, you can have peace of mind knowing that it's built to last.
If you desire a clutter-free and polished look for your kitchen sink area, consider installing the Valdosta faucet in a single hole. This minimalist approach not only adds a touch of elegance to your kitchen but also makes cleaning and maintenance a breeze.
For those who already have a kitchen sink with three pre-drilled holes, Delta offers an optional deck plate. This accessory seamlessly integrates with the Valdosta faucet, allowing you to adapt it to your existing setup. Delta's commitment to versatility ensures that their products cater to various kitchen configurations.
My Verdict
Design and functionality are two inseparable aspects when it comes to selecting the perfect faucet for your kitchen. It's not just about ensuring your faucet works flawlessly. Therefore, it should also elevate the aesthetics of your kitchen. The Delta Daldosta is made for this purpose.
First and foremost, durability is a hallmark of this faucet. Its construction instills confidence, with the extendable portion feeling sturdy and robust, assuring you that it won't loosen or detach easily. Adding to its appeal is the magnetic lock mechanism that securely holds the faucet head in place, ensuring it remains steady and dependable over time.
Another notable point is its generous height, easily accommodating even the largest pots and pans, making your kitchen chores a breeze. The detachable spray nozzle with multiple stream options enhances its versatility, allowing you to tackle various tasks efficiently.
If you're searching for a product that not only performs exceptionally but also enhances your kitchen's visual appeal, this faucet is highly recommended. It is the ideal choice for those who appreciate the marriage of aesthetics and utility in their home appliances.