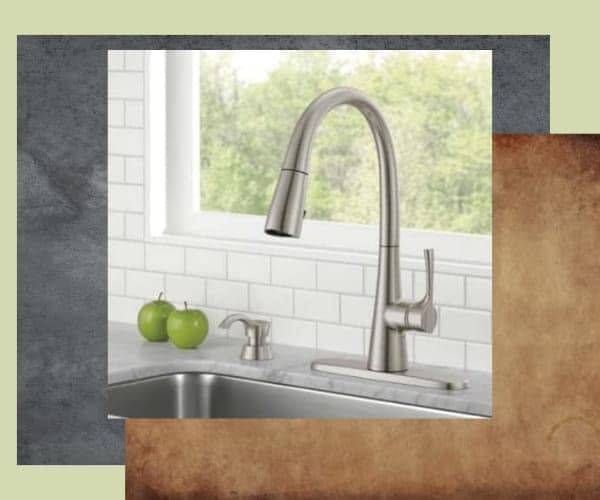 Within the heart of every kitchen, a humble yet indispensable companion diligently performs its duties day in and day out – the faucet. From washing dishes to filling pots, it is a cornerstone of culinary convenience. But what makes a faucet truly exceptional? It's the fusion of functionality and finesse, where every detail counts. And in this quest for perfection, a soap dispenser emerges as an essential companion, elevating a faucet from the ordinary to the extraordinary.
Today, we embark on a journey to explore the synergy of form and function by delving into the world of kitchen faucets with soap dispensers. Our focus rests on a standout contender in this category – the Delta Auburn faucet. With meticulous attention to detail, we will dissect each of its features, uncovering the reasons that make it a top choice for discerning homeowners.
But we don't stop there. Alongside our exploration of the Delta Auburn, we'll introduce you to some comparable models that might capture your imagination. By the end of this article, you'll not only have an intimate understanding of the Delta Auburn but also a broader perspective on the diverse landscape of kitchen faucets with soap dispensers, ensuring your kitchen finds the perfect match.
Overview Delta Auburn Faucet
The Delta Auburn faucet is a standout choice for those seeking a modern and functional addition to their kitchen space. Its design is characterized by clean lines and intricate detailing, making it particularly suitable for spacious and contemporary kitchens.
Some Delta faucets come with a touch-activated technology, known as Delta Touch20. This innovation allows you to control the water flow with a simple touch, making it incredibly convenient. Even if your hands are dirty, the faucet can be activated without causing a mess or splattering water everywhere. It achieves this by sensing whether you are grabbing or just touching the faucet, ensuring that the water only flows when intended. This level of control and cleanliness is a significant advantage for any kitchen.
The faucet also incorporates Delta's TempSense technology, which monitors the water temperature and helps prevent sudden temperature shocks or discomfort to your skin. It uses LED lights to communicate its status, turning red when the battery is low.
The LED lights also indicate the temperature level, transitioning from blue to magenta and finally to red as the temperature increases from low to high. This feature ensures that you can enjoy a comfortable and consistent water temperature every time you use the faucet.
To promote water conservation, the Delta Auburn faucet includes an automatic shut-off feature that stops the water flow after four minutes of continuous use. This helps prevent unnecessary water wastage, making it an eco-friendly choice.
The faucet operates on either 6AA batteries or 6 C batteries, providing flexibility and convenience when it comes to power sources. Moreover, the unique MagnaTite technology is incorporated into the faucet, ensuring that it remains securely in place over time without drooping or losing its position.
Delta stands behind the quality and durability of this faucet, offering a lifetime warranty on the faucet system itself, and a 5-year warranty on all electronic components. This commitment to quality assurance gives you peace of mind, knowing that your investment is protected for years to come..
What do i like in this model?
Material
The choice of material for the Delta Auburn faucet is a key factor that contributes to its exceptional durability and longevity. This faucet is constructed from premium stainless steel, and this choice of material offers several notable advantages:
Rust and Corrosion Resistance: Stainless steel is highly resistant to rust and corrosion, which is crucial for a kitchen faucet that is constantly exposed to water. This means that even with prolonged exposure to moisture, the faucet's surface will remain intact, free from unsightly rust spots or corrosion damage. As a result, you can expect your faucet to maintain its sleek and pristine appearance over an extended period.
Longevity: Due to its rust and corrosion resistance, a stainless steel faucet like this one is designed to have a long lifespan. It can withstand the rigors of daily use and exposure to water without deteriorating or developing structural issues. This long-term durability is a cost-effective choice, as it reduces the need for frequent replacements, saving you money in the long run.
Low Maintenance: It is relatively low-maintenance. It is easy to clean and maintain its shine, requiring only basic cleaning routines to keep it looking like new. This ease of maintenance adds to the overall convenience of having this faucet in your kitchen.
Hygienic: Stainless steel is inherently hygienic because it is non-porous and resistant to bacterial growth. This is an essential feature in a kitchen faucet, as it ensures that the water flowing through it remains clean and safe for use in food preparation and cooking.
Eco-Friendly: This material is a sustainable and eco-friendly choice as it can be recycled, reducing its environmental impact.
Spotless Cleaning with Delta's SpotShield Technology:
Delta's SpotShield Technology is a revolutionary advancement that brings a new level of cleanliness and ease to your kitchen and bathroom spaces. This innovative feature is designed to provide long-lasting protection against the common annoyances of fingerprints and water spots on your faucets and fixtures.
This technology is available in a variety of finishes for both kitchen and bathroom fixtures. It is engineered to resist the unsightly marks left behind by water droplets and the oils on your fingertips. This protection ensures that your faucets and fixtures maintain their beautiful appearance for an extended period.
Its ability to help you keep your environment immaculate for longer. If you're a homeowner with a busy schedule or simply someone who prefers not to clean their faucet daily, SpotShield Technology is a game-changer. It reduces the need for frequent cleaning and maintenance, giving you more time for other important tasks.
With SpotShield, cleaning becomes a breeze. You can simply wipe down your faucet or fixture with a damp cloth to remove any water spots or fingerprints. This effortless maintenance helps you maintain a spotless appearance without the need for harsh cleaning agents or excessive scrubbing.
In addition to its aesthetic benefits, SpotShield Technology also contributes to the longevity of your faucets and fixtures. By protecting the surface from stains and corrosion, it helps extend the life of your investments, saving you money on replacements and repairs in the long run.
ShieldSpray Technology
ShieldSpray Technology is a cutting-edge innovation designed to revolutionize your cleaning experience. With this technology, you can bid farewell to the days of spending endless hours soaking, scrubbing, and constantly changing shirts when dealing with tough messes in the kitchen or bathroom.
The core feature of ShieldSpray Technology is its concentrated jet, which is engineered to tackle even the most stubborn messes with remarkable efficiency. Instead of struggling with grime and residue, this high-powered jet stream effortlessly drives them away, leaving surfaces spotless in no time.
What sets ShieldSpray apart is its ability to create a protective shield of water around the target area. This ingenious water shield effectively contains splatter, preventing it from spreading and creating additional mess. This means that not only will you spend less time cleaning up after your cleaning, but you'll also enjoy a cleaner, more controlled process overall.
But ShieldSpray Technology doesn't stop at just efficient cleaning; it's designed with precision in mind. Imagine it as a laser-like tool for cleaning. It doesn't just clean haphazardly; it zeros in on the problem areas, ensuring that you get a thorough and effective clean every time.
Moreover, ShieldSpray Technology is smart and safe. It's engineered to turn off the mess without creating any mishaps. You can rely on it to clean with precision and control, all while keeping your surroundings dry and tidy.
In addition to its cleaning prowess, Delta ShieldSpray faucets come with a range of thoughtful features. They incorporate integrated InnoFlex PEX supply lines, making installation a breeze. Furthermore, they include a soap dispenser that perfectly complements the faucet's design, ensuring both form and function in your kitchen or bathroom.
ShieldSpray faucets are also equipped with SpotShield technology. This technology is like an invisible shield against dirt, fingerprints, and water spots. It helps your faucet or shower fixtures stay cleaner for longer, reducing the need for constant maintenance and cleaning.
Lastly, Delta ShieldSpray faucets are versatile. They are designed to fit into one, two, three, or four-hole installations, offering flexibility to suit your specific needs and preferences.
Pros:
An affordable faucet which has premium features
For about leakage
Slim and smart design
Premium material
Cons:
Alternatives of Delta Auburn Faucet
1: Kraus Nolen Faucet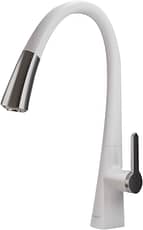 The Kraus Nolen Faucet is a high-quality kitchen faucet designed with several unique features to enhance your kitchen experience.
The faucet boasts an All-Brite spot-free stainless steel finish, which not only adds an elegant touch but also resists unsightly water spots and fingerprints. This feature ensures that your faucet maintains a cleaner and more polished appearance over time. It's also available in Chrome White and Spot Free Stainless Steel Matte Black finishes to match your kitchen decor.
The Kraus kitchen faucet includes a versatile spray head with two modes. The aerated stream is perfect for filling large pots or gentle rinsing, while the powerful spray mode is ideal for tackling heavy-duty cleaning tasks. Additionally, the easy-clean nozzles make it simple to wipe away mineral build-up, ensuring a consistent and long-lasting water flow.
The Kraus Nolen Faucet incorporates a convenient pull-down feature with an 18-inch retractable hose and a swivel adapter. This design allows you to easily flex, pivot, and reach every hard-to-get spot in your sink, making daily tasks more efficient. The magnetic docking system securely holds the spray head in place when not in use, adding convenience to your kitchen routine. Plus, the premium ceramic cartridge ensures leak-free and durable performance.
This faucet is designed to be installation-ready for various sink configurations. It includes an optional deck plate and mounting hardware, making it suitable for 1, 2, or 3-hole sinks. The QUICKCONNECT TECHNOLOGY for water supply lines enables easy installation without the need for hand-tightening. With a LIFETIME LIMITED warranty that covers both the faucet and its finish, you can trust in its long-term quality and performance.
The Kraus Nolen Faucet features an optimized height that easily fits beneath any kitchen cabinet. Its smart single handle can rotate 90° forward, making it suitable for installation in tighter spaces where there might be limited backsplash clearance. This thoughtful design ensures that the faucet not only looks great but also functions seamlessly in various kitchen setups.
Dimensions: Faucet Height: 16 3/8 inches, Spout Height: 9 inches, Spout Reach: 9 1/8 inches.
In short, the Kraus Nolen Faucet is a top-notch kitchen fixture that combines aesthetic appeal with practical features. Its spot-free finish, dual function spray head, pull-down technology, and easy installation options make it a valuable addition to any kitchen, offering both style and functionality.
Moen Essie Faucet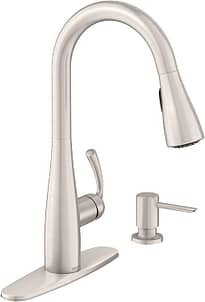 The Moen Essie Faucet is a kitchen fixture that offers several unique and practical features to enhance your kitchen experience.
The faucet is equipped with a Spot Resist Stainless finish, which serves a dual purpose. Not only does it add an attractive aesthetic to your kitchen, but it also offers a functional benefit by resisting fingerprints and water spots. This means your kitchen will maintain a cleaner and more appealing look with less frequent cleaning required.
This Moen kitchen Faucet is designed with the Reflex system, which ensures smooth and convenient operation. This system allows for easy movement of the faucet head and secure docking when you're done using it. The retractable feature ensures that the spray head remains in place, neatly tucked away when not in use.
The Essie Faucet boasts Power Clean spray technology, which delivers an impressive 50% more spray power compared to standard faucets. This enhanced spray power results in a quicker and more efficient cleaning experience. It makes tasks like washing dishes, pots, and pans faster and more effective, saving you valuable time in the kitchen.
This faucet is designed with flexibility in mind. It can be installed in 1, 2, 3, or 4-hole sink configurations, making it suitable for a variety of kitchen setups. The included deck plate adds to its versatility, ensuring that it can adapt to your specific sink arrangement.
Moen stands behind the durability and longevity of the Essie Faucet by offering a Limited Lifetime Warranty. This warranty provides assurance that the faucet is built to withstand everyday use and that Moen is committed to its quality and reliability.
In summary, the Moen Essie Faucet not only enhances the visual appeal of your kitchen but also offers practical benefits.
Its spot-resistant finish, retractable Reflex system, Power Clean spray technology, flexible installation options, and the assurance of Moen's Limited Lifetime Warranty make it a dependable and convenient addition to your kitchen that simplifies your daily tasks and maintains a clean, polished look.
Final verdict
The Delta Auburn Faucet is a unique and versatile kitchen fixture that combines a soap dispenser and a faucet into one convenient unit. This innovative design makes it an excellent choice for anyone looking to streamline their kitchen setup. What sets this faucet apart is its accessibility features, making it easy to use for people with disabilities, adding to its practicality.
One of the standout features of the Delta Auburn Faucet is its durability. It is built to withstand the rigors of daily use, ensuring that it will serve you well for years to come. This longevity is complemented by its overall efficiency, making it a reliable option for users of all backgrounds and needs.
One of the most appealing aspects of this faucet is its affordability. Despite its high-quality components and special features, it comes at a price that won't break the bank. This combination of value and functionality makes it a cost-efficient choice for those looking to upgrade their kitchen without overspending.
Furthermore, the Delta Auburn Faucet comes with the added peace of mind of a lifetime warranty. This warranty ensures that you are covered in case of any unforeseen issues, further solidifying its value proposition. Additionally, the electronic parts of this faucet are readily available and easy to install, even for beginners, which simplifies maintenance and repair.