In this article, we'll talk about Kraus kitchen faucet reviews because we have picked the top 6 best faucets that are popular in the market.
It was not easy for us to choose these models, we have spent some days to find out these taps. After picking them we have read all information about each faucet, and even we read every user's review, about how did impact in their life after using the Kraus kitchen faucet.
After this process, we considered them worthy of being embellished to our list.
Kraus was founded in 2007 when it came to the plumbing fixture market with the goal of providing quality products to the people.
This company is manufacturing kitchen and bathroom taps which are made of original material and of great quality.
Kraus provides such unique shape taps and uses its new technologies in them this is why it is becoming popular in the market.
Its faucets come at very affordable prices that make options for people to update their kitchen with Kraus faucets.
There are so many Kraus kitchen faucets available in the market but we picked only 6 models due to their performance, quality, people rating, and beauty. Also, we have compared them to each other so that we can know which one is capable to come in the 1st place.
At the end of this article, we wrote some benefits of buying a Kraus kitchen faucet as a buyer's guide that will help everyone to take a decision of whether should buy a tap from this brand or not.
We hope this article will help you very much, so please keep reading these reviews if you're looking for a kitchen faucet.
Kraus Kitchen Faucets Comparison Chart
Kraus KPF-1610MBSB Bolden Commercial Kitchen Faucet

Finish Type: Stainless Steel

Spout Height: 6.38 Inches

Kraus Oletto Kitchen Faucet KPF-2620SFS

Finish Type: Stainless Steel

Spout Height: 7.63 Inches


Kraus KPF-1676SFS Odell Kitchen Faucet

Finish Type: Spot Free Stainless Steel


Spout Height: 9.75 Inches


Kraus KPF-1682SFS Sellette Kitchen Faucet

Kraus Artec Pro Kitchen faucet KPF-1603SFACBMB

Spout Height: 6.63 Inches
The History & Evolution of Kraus Company
Kraus is a well-known brand in the plumbing industry that offers a wide range of high-quality plumbing fixtures and accessories. The company was founded in 2007 and has since become a leader in the industry due to its commitment to providing innovative and stylish products.
Kraus specializes in kitchen and bathroom fixtures such as sinks, faucets, showers, and accessories. The brand is known for its use of durable materials such as stainless steel, brass, and ceramic, which ensure that their products last for a long time. Kraus also offers a variety of finishes to match any design style, including chrome, stainless steel, brushed nickel, oil-rubbed bronze, and more.
One of the things that sets Kraus apart from other plumbing brands is its focus on innovation. The company is constantly developing new technologies and designs to make its products more efficient, functional, and user-friendly. For example, Kraus has developed a proprietary NoiseDefend soundproofing technology for its sinks, which reduces noise during use.
In addition to its focus on innovation, Kraus is also committed to sustainability. For example, its stainless steel sinks are made with 100% recycled steel, and its faucets are WaterSense certified, which means they use less water than traditional faucets.
Kraus is also known for its exceptional customer service. The company offers a limited lifetime warranty on its products, and its customer service team is available to answer questions and provide support to customers.
Overall, Kraus is a highly respected brand in the plumbing industry due to its commitment to quality, innovation, sustainability, and customer service. Its products are a popular choice for homeowners and professionals alike who are looking for stylish and durable plumbing fixtures and accessories.
1: Kraus KPF-1610MBSB Bolden Commercial Kitchen Faucet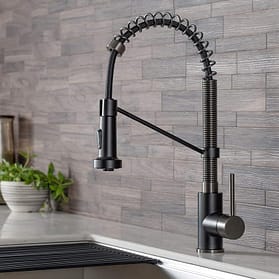 Kraus KPF-1610MBSB Bolden gets #1 place on our top 6 best Kraus kitchen faucet reviews list. In a few times, this model has become the top-selling product on Amazon due to its fabulous specifications.
This commercial-style kitchen faucet is always both flexible and functional. It is designed with a heavy-duty open coil spring spout that allows you to adjust the faucet according to your desires and for an industrial look. The Bolden faucet is one of the best commercial kitchen faucets in the 2023 market.
The greatest thing about this model is the two tones of matte black and black stainless finish included in this faucet which creates a sleek look.
It always remains shiny, due to this feature the faucet looks new every day since it's covered with a WEAR-RESISTANT finish that will not fade or tarnish easily over time.
If you don't want to update the kitchen with this finish then it gives you more options to choose any finish that you love to see in your kitchen.
Having a compact 18 inches height that can fit beneath almost any kitchen cabinet. That means it is not only for commercial Kitchen even you can use it in your home too.
Moreover, Kraus used the PREMIUM CERAMIC CARTRIDGE that provides long-lasting leak-free use.
This model is equipped with some unique technologies. I think due to its unique technologies it has come as the top-selling item on Amazon.
We have reviewed this kitchen faucet in complete detail and elaborated on each feature of this kitchen faucet. However, if you want to read please click this link Kraus bolden kitchen faucets.
Pros
Best kitchen faucet for commercial usage
Two tones of black matte and black stainless finish
Premium ceramic cartridge for long-lasting leakage free
It can be fit in any kitchen cabinet
Wear-resistant finish for always shining
Cons
Need some improvements in the handle
The price is a little bit high.
2: Kraus Oletto Kitchen Faucet KPF-2620SFS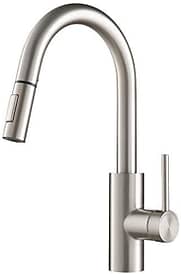 The Olettle has won 2nd place in the list of our top 6 best Kraus kitchen faucet reviews list. What features make this model winner of 2nd place? So let's see its specifications!
The visual appeal of Kraus Oletto kitchen faucet KPF-2620SFS is instantly recognizable by Its sleeky design and clean lines that are sure to be a welcome addition to any home kitchen design.
If you want to modernize and update your kitchen so it can help you instantly change the overall look of the whole space.
This model is a fantastic choice for those busy households and families whose kitchens always remain busy because Kraus has adorned this model with a spot-free finish. However, you'll not need to clean the faucet so that it can be prevented from grubby fingerprints, marks, and stains.
Even better, its maintenance is also easy, thanks to the Kraus designing its model with special rubber nozzles that allow the removal of any limescale or built-up minerals with a single wipe. Also, helps your kitchen tap to last for longer.
Not only looking great, even the faucet comes with a 14" hose and swivel adapter which allow you to reach around all areas of the sink without any issues. This model is an efficient and eco-friendly aerator tap since it fills pots, pans, and containers with a 1.8 GPM flow rate.
The installation process is also very easy just use the optional deck plate then you don't need to secure the tap underneath the sink. This feature makes the entire installation process far quicker and smoother.
Read complete detail and features about Kraus Oletto kitchen faucet.
Pros
Sleek and clean lines give a modern and attractive style look
A flexible 14" retractable hose
Rubber nozzles make maintenance easy
The spot-free finish safe the faucet from stains
Easy installation
Cons
The nozzle is constructed of plastic
There is no magnet or fixture to attach the hose securely.
3: Kraus KPF-1676SFS Odell Kitchen Faucet – Best for Modern style kitchen
We have given 3rd place to the Kraus KPF-1676SFS Odell Kitchen Faucet due to its elegant design and performance.
The Odell design is similar to the expensive brands' kitchen faucets but to buy this model you'll not have to pay the price that affects your budget.
Despite its modern and stylish design, it comes at an affordable price. If you want to buy the best modern kitchen faucet then you should see this model because it can fulfill your dreams.
This model is constructed of solid brass material and top-of-the-line components guarantee you long-lasting leak-free performance.
Different style handle, pull-down design with flexible hose swivel adapter offers smooth spray head movement and unparalleled maneuverability.
The spray head has two functions for everyday tasks, the aerated stream is good for cleaning fruits, vegetables, and pots. For hard-to-clean greasy dishes, it provides a powerful spray that helps to clean greasy pots quickly and easily.
A single-handle faucet offers smooth operation with effortless temperature and flow control. Very easy to open and close the faucet with a single handle with one hand.
This Kraus kitchen faucet's height is 15 3/4 inches which gives you huge convenience while you're washing the dishes.
I liked its sweeping curves that flow seamlessly from top to bottom which makes the Odell faucet a striking addition to any kitchen.
Pros
Elegant and stylish design
Spot Free all-Brite Stainless Steel finish
Very easy to use and install
Reasonable price
Best for every home kitchen
Limited lifetime warranty
Cons
Need some improvements on sturdiness
4: Kraus KPF-1682SFS Sellette Kitchen Faucet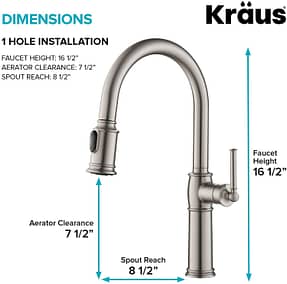 Once more, Kraus brings to our attention a smooth, and sleek design that makes the faucet adaptable and capable to suit almost every style of kitchen. The Kraus KPF-1682SFS Sellette Kitchen Faucet is a suitable tap for every sink.
Whether you love a modern, minimalist oasis or a traditional country kitchen, this is a versatile design that makes your sink a core design feature and merely a functional object.
The reach of the flexible hose is 16 inches, which is impressive. This means you'll have plenty of space around the sink, and the freedom of water flor where you need it at any given moment.
The Sellette KPF-1682SFS faucet is also super simple to use, with a single-handled design allowing everybody to turn the unit on and off. Also, it allows adjustment to the perfect temperature, all these things are done by the touch of a button.
When it comes to pocket budget, however, this is a quality product at a more than affordable price. This offers an excellent choice for homeowners who are looking for an easy way to update their kitchen with new faucet.
This Kraus kitchen faucet delivers a perfect water flow that helps you to do all tasks quickly. Besides that, it comes with two more finishes – oil-rubbed bronze which looks very beautiful and chrome. You can change the style of this in commercial and modern style.
Pros
Clean and straightforward design that is ready for any environment
The single handle makes it easy to use
Budget-friendly faucet – it gives an amazing option to update the kitchen with a new faucet
A great water flow
Optimized height
Cons
The sprayer can be leak after using some months
As customers' reviews, the stainless steel finish is a little bit different shade to other faucets in this color
5: Kraus KPF–1673CHWH Nolen faucet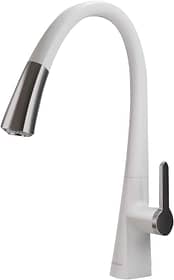 Indulge in the epitome of kitchen luxury with the extraordinary Nolen faucet, a true masterpiece that will leave your guests mesmerized. Its clean cylindrical lines and high-arc design create a visual spectacle, instantly transforming your kitchen into a work of art.
Prepare to be amazed by the Nolen faucet's dual-function sprayhead, which unleashes a symphony of water options at your command. Need a gentle, aerated stream for delicate rinsing? No problem! Craving a powerful rinsing spray to tackle those stubborn food residues? Consider it done! The intuitive rocker switch lets you effortlessly toggle between these modes, putting you in complete control of your kitchen experience.
But what truly sets the Nolen faucet apart is its unrivaled flexibility. The ingenious nylon hose, coupled with the swivel adapter, grants you the freedom to dance around your sink with grace and ease. No more limitations or frustrating tugs on the hose—now you can effortlessly reach every nook and cranny, making even the most demanding kitchen tasks a delight.
Prepare to be captivated by the Nolen faucet's unique duo-tone color combinations. Infuse your kitchen with a burst of personality by choosing from a range of captivating options that are sure to turn heads. Immerse yourself in the captivating interplay of bold contrasts or embrace the harmony of complementary hues—the choice is yours. Allow your kitchen to become a canvas of self-expression, reflecting your unique style and taste.
For those who crave pristine perfection, the Spot Free all-Brite Stainless Steel finish is a game-changer. Say goodbye to incessant wiping and cleaning as this innovative finish resists unsightly fingerprints and water spots, ensuring that your faucet always gleams with brilliance.
Spend less time worrying about the appearance of your kitchen and more time enjoying the culinary delights that unfold within its walls. The finish makes it the best kitchen faucet for hard water.
Elevate your kitchen to new heights of sophistication with the Nolen faucet. Its captivating design, seamless switching between spray patterns, unmatched flexibility, and stunning finishes make it the ultimate statement piece for any culinary enthusiast. Upgrade your kitchen today and indulge in the sheer beauty and allure of the Nolen faucet.
Pros
A perfect mixture of matte white and chrome color
Water-efficient and Eco-friendly model
Eye-catching unique design
Brass construction
Cons
6: Kraus Artec Pro Kitchen faucet KPF-1603SFACBMB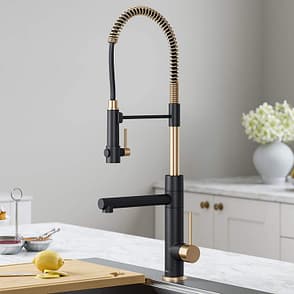 If you're searching for a high-quality and super classic modern finish, this KRAUS Artec Pro Kitchen faucet is the perfect solution!
We see many commercial-style faucets but it is designed very uniquely commercial style. The matte black and bronze finishes help to add a unique and individual twist, which makes this model the ideal match for a sophisticated kitchen.
You may select other finishes because it comes with a single tone and two-tone with various types of colors.
This tap might be the perfect choice for coffee shops, cafeterias, and restaurants, even your kitchen if you have huge space around the sink area.
The overall height of this model is 24 3/4 inches which is higher than other models, but it provides you with more facilities in cleaning and filling.
An amazing water flow rate that allows you to adjust the flow from 1.8 to 2.2 GPM this feature is very rare in other models.
As I told you that this is perfect for coffee shops, restaurants, etc, because now keeping the faucet clean, and shiny is very easy thanks to spot-free antique champagne and corrosion-resistant technologies, which allow you to wipe after a long time.
The magnetic docking arm guarantees you that the spray head always snaps back into its place, with a secure and strong grip with no drooping over time.
This Kraus kitchen faucet is also equipped with super useful easy clean nozzles, which will enable any unwanted build-up to be easily removed and wiped away. This means it always provides clean and safe water that'll safe for human health.
Pros
Spot-free antique champagne and corrosion-resistant technologies
An amazing water flow
Another best solution for commercial use
Magnetic docking
Limited lifetime warranty
Cons
The price is high than other models
It may create noise when it is in use
7: Kraus Urbix Industrial Kitchen Faucet KPF-3125MB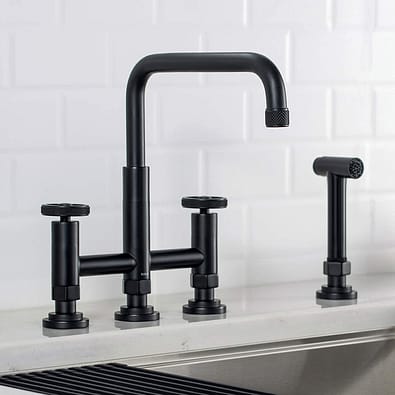 The Kraus Urbix Industrial Kitchen Faucet KPF-3125MB plays both modern and vintage design roles.
Installing this model into your kitchen sink will give you a cool view that makes a focal point of your kitchen.
This is only one faucet in this list that comes with 2 handles, both handles will use for cold and hot water.
The installation process needs 3 to 4 holes because of the dual handles and separate spray.
Its overall height is 11 3/8 inches to 12 3/8 inches which can be perfect for any kitchen sink because the spout is vertically adjustable.
The Kraus kithcen faucet Urbix comes with flexible pre-attached waterlines for easy installation.
Non-slip rounded handles are made by a diamond texture that gives you a good grip when your hands are involved in the soap.
There is another model that comes with lever handles.
This model got very positive reviews from the buyers due to its quality, sturdiness, style, and water flow.
Pros
Solid brass body for long-lasting
Industrial kitchen style
2 rounded handles for hot and cold water
Adjustable height that can be perfect for most kitchen
Cons
The price is a little high
8: Kraus Britt Commercial Style Pull-Down Faucet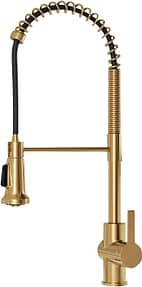 Did you know that the average person spends about 6 hours and 42 minutes in the kitchen each week? That's a lot of time spent in a single room! So why not make your kitchen a captivating space that reflects your personal style and makes every moment you spend there a delightful experience?
Introducing the Britt Commercial Style Pull-Down Faucet—a game-changer that effortlessly combines functionality, elegance, and easy installation. Inspired by the expertise of professional chefs, this faucet is designed to revolutionize your kitchen and transform it into a culinary haven.
With its eye-catching high-arc open coil spout, the Britt faucet adds a touch of industrial chic to your space. But don't let its sleek appearance fool you—the slim single lever handle and flared sprayhead soften the overall look, creating a harmonious balance between modern design and practicality.
Prepare to be amazed by the pull-down sprayhead and its swivel adapter. This dynamic duo offers maximum maneuverability, allowing you to flex, pivot, and reach every nook and cranny of your sink. Say goodbye to those frustrating moments when you couldn't quite get the water where you needed it.
With the Britt faucet, you'll enjoy ultra-smooth retraction and secure docking, ensuring that the sprayhead is always ready for action and securely stored when not in use.
Versatility is the name of the game with the 3-function sprayer. Whether you need a gentle aerated stream for filling pots, a powerful spray to tackle stubborn residue, or a momentary pause to attend to other tasks, this faucet has got you covered. It's like having a personal assistant in your kitchen, anticipating your every need.
But the convenience doesn't stop there. The ergonomic handle operates with a 90-degree forward rotation, making it a breeze to use. Plus, it offers installation flexibility, even in spaces with limited backsplash clearance. No more contortions or compromises—enjoy effortless operation and easy installation all in one.
We understand the importance of durability, which is why the Britt faucet is built to last. Its robust design features state-of-the-art components, including a ceramic cartridge engineered to outperform industry standards. Say goodbye to leaks and constant repairs, and say hello to a worry-free lifetime of use.
Speaking of easy installation, we've ensured that setting up your Britt faucet is a breeze. It comes with flexible pre-attached water lines, a QuickWeight snap-on counterweight for seamless retraction, and an easy-install QuickConnect sprayer hose that snaps together for a leak-free connection. We've taken care of the technicalities so you can focus on enjoying your new faucet.
Personalize your kitchen with a variety of corrosion-resistant finishes that not only protect your faucet but also add a touch of style to your space. And for those of you with busy kitchens, our proprietary Spot Free Finishes are here to save the day. They keep your faucet looking pristine, even in the face of daily use and fingerprints.
At KRAUS, we believe in the power of design to transform ordinary spaces into extraordinary ones. Our mission is to provide innovative fixtures at approachable prices, empowering you to create the kitchen of your dreams. Join us in our pursuit of excellence, and experience the Innovation for Real Life that awaits you.
Upgrade your kitchen with the Britt Commercial kitchen faucet and unlock a world of possibilities. Make every moment in your kitchen a joyous one, as you revel in a space that effortlessly combines style, functionality, and ease of use. Your culinary adventures await!
Pros
Beautiful color most people like it
Lightweight body
Easy to install
All installing accessories come with it
Cons
9: Kraus KPF-2252MB Oren Pull Out Kitchen Faucet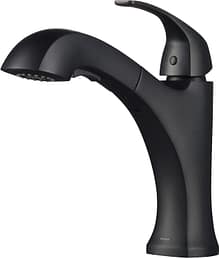 Introducing the magnificent Oren faucet—a masterpiece that epitomizes the seamless blend of sleek transitional style and practical pullout functionality.
This extraordinary faucet effortlessly harmonizes with any kitchen décor, whether you crave the timeless allure of classic elegance or the cutting-edge aesthetics of contemporary flair. Brace yourself for the ultimate fusion of exquisite design and unparalleled usability.
With its clean lines and captivating silhouette, the Oren pull out kitchen faucet emerges as the chameleon of kitchen accessories. It effortlessly adapts to your unique style, seamlessly integrating into your existing design choices. Regardless of the aesthetic you desire, the Oren faucet stands ready, poised to complement and elevate the overall allure of your kitchen.
Bid farewell to the constraints of a single spray pattern and embrace the sheer convenience of the dual-function spray head.
Need a gentle and refreshing aerated stream to delicately rinse your fruits and vegetables? Consider it done! Craving the unrestrained power of a vigorous rinsing spray to conquer stubborn food residues? Simply press a button, and behold—it's at your command.
The Oren faucet grants you the freedom to effortlessly switch between these invigorating spray patterns, ensuring that your kitchen tasks are executed with the utmost ease.
Prepare to be spellbound by the extraordinary range of motion bestowed upon you by the Oren faucet's flexible nylon hose and swivel adapter. It's akin to having a remarkable dance partner in your kitchen, guiding you with grace and fluidity as you glide effortlessly around the sink.
Bid adieu to the vexation of limited reach and rejoice in the liberation of unrestricted movement. With the Oren faucet as your companion, every nook and cranny of your sink becomes easily accessible, rendering even the most demanding tasks as effortless as a gentle breeze.
We appreciate the importance of maintaining the pristine appearance of your kitchen, which is precisely why the Oren faucet is available in the magnificent all-Brite Spot Free Stainless Steel finish. This remarkable finish not only bestows an air of sophistication upon your space but also acts as a guardian against unsightly fingerprints.
Rejoice in the prospect of spending less time engaged in tedious cleaning rituals and more time reveling in the joys of your kitchen, as the Oren faucet proudly maintains its flawlessly radiant shine with minimal effort.
Elevate your kitchen to extraordinary heights by embracing the transformative power of the Oren Kraus kitchen faucet. Prepare yourself for an unparalleled experience of style, convenience, and effortless use.
Its sleek transitional design, dual function spray head, unparalleled range of motion, and all-Brite Spot Free Stainless Steel finish render it an indispensable addition to the arsenal of any culinary enthusiast's dream kitchen.
Unleash the full potential of your culinary adventures with the awe-inspiring Oren faucet as your trusted ally.
Pros
One of the best pull out kitchen faucet
It need single hole to install
Smooth handle easy to rotate
Cons
Kraus Kitchen Faucets Buying Guide
Definitely, finding the best Kraus kitchen faucet for the kitchen skin is not easy as we think. Since certain people don't know how to buy a kitchen faucet and what features should have a kitchen faucet.
But, for the sake of people's help, we have found some key factors that can make this process easy and quick.
There're the following points that should keep in mind while shopping a kitchen faucet.
Style
When it comes to choosing a kitchen faucet, style is an important consideration as it can significantly impact the overall look and feel of your kitchen. Kraus is a popular brand that offers a wide range of kitchen faucets to suit different styles and preferences.
One of the first things to consider when selecting a Kraus Kitchen Faucet is the overall style. Kraus offers a variety of styles ranging from classic to modern, and everything in between. Some faucets feature a sleek and minimalist design, while others have more intricate details and curves.
Another aspect to consider is the finish of the faucet. The brand offers a range of finishes, including brushed nickel, chrome, stainless steel, and matte black.
Brushed nickel has a soft, satin finish that is elegant and timeless, while stainless steel has a more modern and industrial look. Chrome is a classic finish that works well with a variety of styles, while matte black offers a bold and sophisticated look.
In addition to style and finish, it is important to consider the type of faucet that will work best for your needs. Kraus offers two main types of faucets: single handle and pull-out. Single handle faucets are a popular choice as they are easy to use and require minimal installation work.
They also tend to be more affordable than pull-out models. On the other hand, pull-out faucets offer more flexibility as they allow you to extend the faucet head to reach different areas of the sink. This can be particularly useful for washing large pots and pans.
When it comes to cleaning, single handle faucets are generally easier to maintain than pull-out faucets. This is because there is no exposed pipe underneath the faucet that can collect dirt and grime. However, pull-out faucets often come with a spray head that can be detached for more targeted cleaning.
Material
When it comes to selecting a kraus kitchen faucet, the quality of the materials used in its construction is an important factor to consider. A faucet typically consists of several components, including the handle, spout, valves, and aerator. Each of these components can be made from different materials, each with its own advantages and disadvantages.
One of the most common materials used in faucet construction is brass. Brass is a durable, corrosion-resistant material that is commonly used for plumbing fixtures due to its excellent performance in water-based environments.
It is also relatively easy to manufacture, which makes it a cost-effective option for faucet manufacturers. However, not all brass is created equal, and the quality of the brass used can affect the durability and longevity of the faucet.
Another material used in faucet construction is stainless steel. Stainless steel is known for its strength and durability, as well as its resistance to corrosion and tarnishing. It is also a hygienic material that is easy to clean, which makes it a popular choice for kitchen faucets.
Plastic is also used in some faucet components, such as the handles and aerators. While plastic may not be as durable as metal, it is lightweight, cost-effective, and can be molded into various shapes and sizes. High-quality plastics such as PEX and PVC can withstand the demands of daily use and are resistant to wear and tear.
In addition to the materials used, it's also important to consider the construction and manufacturing processes used in the production of the faucet. For example, the faucet should be properly assembled and secured to prevent leaks or other issues. It's also important to look for faucets that have undergone rigorous testing to ensure they meet industry standards for performance and durability.
Installation
The installation process of a Kraus kitchen faucet is a crucial aspect to consider when purchasing a new faucet. Poor installation can lead to water leaks and other issues that can become costly and frustrating over time. Therefore, it's important to ensure that the faucet is easy to install and comes with all the necessary parts needed for installation.
When considering the installation process, there are a few key factors to keep in mind. The first is the compatibility of the faucet with your sink or countertop.
Kraus kitchen faucet offers a variety of faucet styles that are designed to fit different sink types, so it's important to ensure that you select a faucet that is compatible with your sink or countertop.
Another important factor to consider is the type of installation required for your faucet. Kraus offers a range of faucet installation options, including single-hole, dual-hole, and three-hole installations. Each installation type requires a different number of mounting holes, so it's important to choose a faucet that matches the number of holes in your sink or countertop.
In addition to the compatibility and installation type, it's important to consider the ease of installation of the Kraus kitchen faucet. Many Kraus faucets are designed for easy installation and come with all the necessary parts needed for installation. This includes mounting hardware, water supply lines, and installation instructions.
To ensure a successful installation, it's important to carefully follow the installation instructions provided by Kraus. The instructions should provide clear guidance on how to properly install the faucet, including how to attach the mounting hardware, connect the water supply lines, and properly tighten the faucet to prevent leaks.
Water Flow
Water flow refers to the volume of water that passes through a faucet or any other water outlet in a given amount of time. Water flow is an important factor to consider when choosing a kitchen faucet, as it affects the efficiency and functionality of the faucet.
When choosing a Kraus kitchen faucet, it is recommended to select a faucet with a water flow rate between 1 GPM and 3 GPM. A flow rate of 1 GPM is considered low flow, while a flow rate of 3 GPM is considered high flow.
The flow rate should be chosen based on the intended use of the faucet. For example, a low-flow faucet may be more suitable for a kitchen sink used mainly for washing dishes, while a high-flow faucet may be more suitable for filling large pots or pans.
An auto-siphon option is another important feature to consider when choosing a Kraus kitchen faucet. This feature allows the faucet to automatically siphon water from a secondary source, such as a filter or water treatment system. This ensures that the water delivered by the faucet is of high quality and free from contaminants.
A built-in aerator is also an essential feature to look for in a kitchen faucet. An aerator is a device that mixes air with the water flow, reducing the amount of water that is delivered while maintaining the pressure. This piece of faucet helps to reduce water bill and conserve water. A built-in aerator also helps to prevent splashing and ensures a smooth and consistent water flow.
Brass lever handles are a durable and stylish feature that adds to the functionality and appearance of the faucet. They are easy to use and provide a comfortable grip for adjusting the water flow and temperature.
A single handle pull feature is another important consideration when choosing a Kraus kitchen faucet. This feature allows for easy and convenient control of the water flow and temperature with a single hand. It also helps to save space and reduces clutter around the sink area.
Finally, a spray feature is a valuable addition to a Kraus kitchen faucet. This feature allows for easy rinsing of dishes and cleaning of the sink area. It is also useful for filling large pots or pans with water.
Finish
When it comes to kitchen faucets, the finish is an important factor to consider as it can affect the overall look and feel of the kitchen. In addition to aesthetics, the finish can also impact the durability and maintenance of the faucet. Here is a closer look at the most common types of finishes available for kitchen faucets:
Chrome Finish: Chrome is a popular finish for kitchen faucets due to its durability and ease of maintenance. It is a highly reflective finish that can easily match with most kitchen decor styles. Chrome is also resistant to tarnish, corrosion, and scratching, making it a great option for busy kitchens. However, it can show water spots and fingerprints easily, requiring frequent cleaning.
Stainless Steel Finish: Stainless steel is a popular finish for kitchen appliances and it is also commonly used for kitchen faucets. It has a sleek, modern look that can complement various kitchen styles. It is highly durable, resistant to corrosion and tarnish, and easy to maintain. Stainless steel is also resistant to heat and chemical damage, making it a suitable choice for kitchens with high-temperature water.
Matte Black Finish: Matte black finish is a bold and stylish option for Kraus kitchen faucet. It has a non-reflective surface that can provide a striking contrast against lighter color kitchen decor. It is also resistant to water spots and fingerprints, making it low maintenance. However, matte black finishes can show scratches more easily compared to other finishes.
Oil-Rubbed Bronze Finish: Oil-rubbed bronze finish has a classic, rustic look that can add warmth and character to a kitchen. It has a deep, rich color with a slightly aged or weathered appearance. Oil-rubbed bronze kitchen faucet is also highly durable and resistant to tarnish and corrosion. However, it requires more maintenance compared to other finishes as it can show water spots and fingerprints easily.
Gold Finish: Gold finish is a luxurious and trendy option for Kraus kitchen faucet. It can bring an instant elegance and sophistication to the kitchen decor.
Gold kitchen faucets come in various shades such as brushed gold, polished gold, and antique gold. This finish is also long lasting if you care about it and resistant to tarnish and corrosion. However, it may not be suitable for all kitchen styles and may require more maintenance compared to other finishes.
What are the benefits of buying a Kraus Kitchen Faucet?
Although, Kraus is a new brand when we compare it to other top popular brands like Moen, Delta, Kohler, and Pfister.
However, some people may hesitate to buy a kitchen faucet from this brand. Therefore, they don't have experience with the Kraus brand due to its new entry into the market.
Yeah, because it is human nature to be afraid of getting any loss this is why people buy things from experience brands.
While reviewing Kraus kitchen faucets, we have seen some unique factors that make this brand able to compete with popular brands.
We estimate that if someone buys a faucet of this brand, that person will not be without benefits.
We have noticed some advantages that come with Kraus kitchen faucet, if you buy a tap from this brand you can get the benefits.
There are some following benefits that we have noticed.
Affordable Price
Kraus is a popular brand in the faucet industry, known for offering a wide range of kitchen and bathroom faucets at an affordable price. One of the key benefits of choosing Kraus kitchen faucet is that they are designed to provide high quality at a price point that is accessible to a wide range of consumers.
The affordability of Kraus kitchen faucet can be attributed to several factors. First, the company uses high-quality materials in the construction of their products, which helps to keep costs down without sacrificing quality. Additionally, Kraus has streamlined their manufacturing process to ensure maximum efficiency and cost-effectiveness.
Another factor that contributes to the affordability of Kraus faucets is their focus on simplicity in design. While some other faucet brands may offer more intricate and ornate designs, Kraus kitchen faucet is designed with functionality in mind. This allows the company to keep costs down while still providing customers with a high-quality product that performs well and looks great.
One of the advantages of choosing Kraus kitchen faucet is that they offer a wide range of styles and designs to choose from. Whether you are looking for a modern, minimalist faucet or a more traditional and ornate design, Kraus is likely to have a product that meets your needs.
This is particularly beneficial for consumers on a budget, as they may not have access to the same variety of styles and designs from other brands that are more expensive.
A Great Design Option
Kraus is a brand that is known for its high-quality and stylish kitchen faucets. The brand offers a variety of design options for customers to choose from, including traditional, commercial, and modern-style kitchen faucets.
One of the most popular design options from Kraus is the commercial-style faucet. These types of faucets are often found in professional kitchens and are known for their industrial look and high functionality. Kraus offers a wide range of commercial-style faucets that can give any kitchen a professional touch.
Another design option from the comapny is the traditional-style faucet. These faucets are often more understated in their design, but still offer a classic and elegant look for any kitchen. The traditional-style faucets from Kraus kitchen faucet come in a variety of finishes, including chrome, stainless steel, and oil-rubbed bronze, so customers can choose a style that complements their kitchen décor.
For those who want a more contemporary look, the brand also offers modern-style kitchen faucets. These faucets feature sleek lines and minimalist designs that can give any kitchen a clean and modern look. The modern-style faucets from Kraus kithcen faucet often come in unique finishes, such as matte black or brushed gold, to add a touch of luxury to any kitchen.
In addition to their design options, Kraus kitchen faucets are also known for their high-quality construction and functionality. Many Kraus kitchen faucet feature features such as a pull-out spray head, which allows for easy cleaning and filling of pots and pans. They are also made with durable materials such as solid brass and stainless steel, ensuring that they will last for years to come.
An amazing warranty
A warranty is a legal agreement between the manufacturer and the buyer that guarantees the product's quality, performance, and reliability. It is a promise that the manufacturer makes to the customer that if there is a problem with the product due to a manufacturing defect, they will repair or replace it. A warranty gives customers peace of mind and helps to build trust in the brand.
Kraus is a leading manufacturer of kitchen and bathroom fixtures and is known for its high-quality products. The company offers a limited lifetime warranty with its faucets, which is a significant selling point for customers. This warranty covers any defect in materials of faucets and workmanship for the lifetime of the product.
Kraus kitchen faucet is designed and built to last, and the limited lifetime warranty is a testament to their commitment to quality. The warranty covers all parts and finishes, and if there is a defect, Kraus will repair or replace the product at no cost to the customer.
One of the reasons why a limited lifetime warranty is rare in most faucets is that it is a significant financial commitment for the manufacturer. However, offering a limited lifetime warranty can increase customer satisfaction and loyalty, which can lead to increased sales and revenue in the long run.
Kraus is confident in the quality of their products and the limited lifetime warranty is a testament to that. The warranty provides customers with peace of mind and confidence in their purchase, which can lead to a positive brand reputation and increased customer loyalty.
Amazing Customer Service
Excellent customer service is a crucial aspect of any business, and Kraus appears to take it seriously when it comes to their kitchen faucets. With thousands of positive reviews, it seems that Kraus has been successful in providing their customers with top-notch customer service.
First and foremost, Kraus offers direct contact with their customer support team. This means that if a customer has a problem with their kitchen faucet, they can quickly and easily get in touch with a knowledgeable and helpful representative who can assist them in resolving the issue. Prompt response times are crucial in the world of customer service, and it's good to see that Kraus appears to be committed to this.
In addition to providing direct contact with their customer support team, the company also seems to have a robust warranty policy.
If a customer is unable to resolve their issue with the support team, they can rest assured that Kraus will do everything in their power to make it right. This includes providing a new faucet if necessary, which can be incredibly helpful for customers who have invested in a Kraus kitchen faucet and want to ensure that they get their money's worth.
Conclusion – Should you buy Kraus Kitchen Faucet?
Kraus has more than 14 years of experience in manufacturing bathroom and kitchen fixtures.
There is a variety of kitchen faucets including commercial style, traditional style, modern style, and a variety of finishes.
This brand gives you lots of options for matching a faucet as you love to see on your sink.
All taps are built up with high and good quality materials that safe them from leakage, and any type I'd stains, and increase lifespan.
More better is, that the company gives a limited lifetime warranty with some models so before buying any model check the warranty time period.
Also, in a tough budget situation, Kraus still gives you the option to choose any tap according to your pocket money.
If someone wants to update the kitchen with a commercial-style model our number 1st model Kraus KPF-1610MBSB Bolden Commercial Kitchen Faucet is perfect for both commercial and traditional usage.
When you have a budget problem but still you want a modern style faucet then you can choose our 2nd Kraus Oletto Kitchen Faucet KPF-2620SFS and 3rd place Kraus KPF-1676SFS Odell Kitchen Faucet.
In short, all taps have good features and are made of genuine material, they are ready to do any kitchen task.
FAQs
What types of finishes and styles of faucets Kraus brand provide?
Kraus Kitchen faucets are a popular brand of kitchen faucet that has been around for many years. They have a wide variety of styles and finishes, and they offer a number of different features to choose from.
Their most popular styles are:
Stainless Steel
Oil Rubbed Bronze
Solid Brass
PVD Stainless Steel
They also offer:
Single Handle or Double Handle
High Arc or Low Arc (standard arc is 16 inches)
Pull Down Sprayer or Pull Up Sprayer (pull up sprayer is great for those who like to use pre-rinse soap)
How to clean a Kraus kitchen faucet?
With the faucet closed, turn the handle and the sprayer counterclockwise until it is fully extended.
Using a soft brush and mild soap, clean both sides of the sprayer and handle with a circular motion.
Once both sides are completely wet and clean, turn the handle clockwise back to its original position.
Turn on the water to flush any soap residue from inside your sink or tub.
Are the Kraus Kitchen Faucets Best For Kitchen?
Kraus Kitchen faucets are the best kitchen faucet in the market. You can use them in your kitchen, bathroom, and even in your office. The company adds many features that make its models easy to use.
Kraus Kitchen Faucets have a unique design that makes them look modern and stylish. They have an attractive design that makes them fit into any home décor theme.
The latest models come with touchless technology which makes them easy to use without having to touch the handles or knobs. You can set the temperature and water flow settings on these faucets via remote controls which makes it easier for people who are not skilled at using a regular faucet handle (handles).
The Kraus Kitchen Faucet has high-quality materials such as brass and stainless steel which makes them durable and sturdy enough for daily use in your home.
Will my brand new Kraus kitchen faucet still look good after years of use?
Yes! Kraus kitchen faucets have been engineered to deliver years of dependable performance. The brass body is plated with nickel (which is a durable metal) and the handles are made of solid brass for long-lasting durability. And since all Kraus products are designed for easy installation, you can expect that yours will look great for years to come!