Pfister kitchen faucets are the best value in the market because of their good quality, and long-lasting performance.
They come in various designs and shapes, hence some models are designed with a high arc, and some of them with a low arc.
In short, you can get professional, traditional, and commercial-style kitchen faucets. All style taps are available in the Pfister catalog just find the best model for your kitchen.
Also, Pfister brings a broad spectrum of finish and color options too since each model gives an option in selecting the colors.
We have picked the top 7 best Pfister kitchen faucets that have different shapes and colors.
Pfister Kitchen Faucets Comparison Chart
Pfister LG534-LPMB Arkitek Kitchen Faucet

Maximum Flow Rate: 1.8 GPM

Spout Height: 9.19 Inches

Spout Reach: 10.51 inches

Pfister Stellen Kitchen Faucet LG529ESAB

Maximum Flow Rate: 1.8 GPM


Spout Height: 8.44 Inches

Pfister F5297JIGS Jovi 1-Handle Pull-Down

Material: Stainless Steel

Finish Type: Spot Defense


Maximum Flow Rate: 1.8 GPM

Spout Height: 10.11 inches


Best High Arc Touchless Tap

Pfister Zanna Kitchen Faucet F529EZN3GS

Material: Stainless Steel

Finish Type: Spot Defense


Maximum Flow Rate: 1.66 GPM

Spout Height: 8.7/16 Inches

Pfister LG531YPK Ashfield Kitchen Faucet

Maximum Flow Rate: 1.8 GPM
1: Pfister LG534-LPMB Arkitek Kitchen Faucet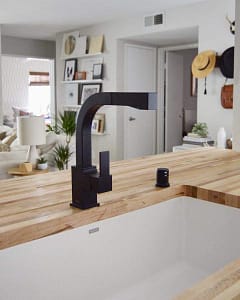 The Pfister LG534-LPMB Arkitek Kitchen Faucet is a perfect choice for modern-type kitchens.
No worry if you don't have much space in your kitchen but this modern-style kitchen faucet brings instant beauty at the place.
This model is easily installed in the small kitchen and increases the look of the kitchen. At the glance, Its little bit of carved shape looks very decent and elegant when you install it in your kitchen.
There are 3 types of faucets in this shape from Pfister but this black one has a very different look due to its finishing and metropolitan design.
Although this model has no flexible supply lines but its spray head system solves the problem while cleaning the dishes even if they're a small or large size.
The Pfister LG534-LPMB Arkitek Kitchen Faucet Pull-Out Sprayhead allows you to clean your sink easily by its spray head. There is a toggle button between the spray head that gives you the option to use spray or stream mode.
You just need 1 hole to install this faucet. Also, if you want 3 holes (for using its deckplate) then you're allowed to drill 3 holes to install the faucet.
This model has a 1.8 GPM water flow rate. Its Ceramic disc valve technology ensures that the faucet will be used for long-lasting.
Pfister designed this model according to NSF/ANSI 372 so that people can drink the water which comes in this faucet.
The final words about this model are we want to say that if you're looking for the best black kitchen faucet then you should try this model to increase more beauty of your kitchen.
Pros
Very easy to install it, just need one hole for hot and cold water
Modern design model, and shiny
Long-lasting model
Great quality, you can trust it
Ceramic disc valve technology
Cons
Flexibility is not included
The sprayer pipe is made by plastic that can easily break. Should make is by steel
A little bit more expensive than other faucets which are the same its shape.
2: Pfister Stellen Kitchen Faucet LG529ESAB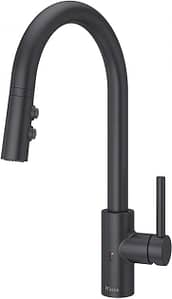 Now the time is to introduce our 2nd placed kitchen faucet that doesn't require touching the handle for on and off the water flow.
The company introduced Pfister Stellen Kitchen Faucet LG529ESAB which comes with an elegant feature – a Touchless Pull Down Feature – I think this feature is very rare in other models.
Yeah, this might be a good helper for you if you are always busy in the kitchen due to a load of family work.
Its touchless feature helps you to work fast by cleaning dishes very quickly and easily. Also, it saves you from spending too much water and water bill.
You just need to fix the pull and then show your hand in front of the faucet's sensor to open the water. It is very good for busy hands since they don't have to touch the lever again and again.
Besides that, this model supplies the water in 3 modes – Spray, stream, and pause – you'll not have to keep pushing the toggle button since it has only 2 buttons to change the modes.
One button for spray and stream modes, so pull the sprayer and clean your kitchen pots with free hands faucet.
This model is designed with flexibility so that it can be turned at any side of the sink.
Another great feature of this model is that it shuts off automatically when the faucet is ON at inactivity.
Now your presence is not compulsory when the children go to the kitchen and ON the faucet.
Our opinion about this model is that if you want to do kitchen tasks with a touchless kitchen faucet then this is the best model for you.

The amazing thing which I noticed in this model is despite having a touchless feature, the faucet cost is not high. While other models come with the same feature but you'll have to the high cost to buy them.

The design is also attractive that may look pretty in the kitchen room.
Pros
Despite a touchless feature, the faucet comes at a low price
High arc faucet with a sleek design
The motion sensor is very smart, you'll be able to turn off and on the faucet while scrubbing
Almost 85% of users are happy with the Pfister Stellen Kitchen Faucet
Cons
Don't have any serious downside
3: Pfister F5297JIGS Jovi 1-Handle Pull-Down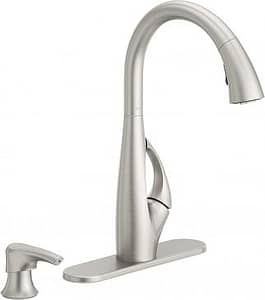 Although all faucets look great in starting when you just install the faucet. But after some days or months, their polish goes dull and they look so ugly.
They might be affect the kitchen's look after going to be dal that's why it is better to choose a spot defense faucet.
Another problem is the leakage of water, this is a very bad problem in any faucet. Many faucets leak water after some days or months.
But there is the best model from the Pfister brand that is clean and clear of these two problems.
Pfister F5297JIGS Jovi 1-Handle Pull-Down comes with spot-defense stainless steel features that ensure you that your faucet will always look elegant after using it for many years.
This model is equipped with advanced ceramic disc valve technology that gives us a guarantee of leakage. This means your faucet will never leak water.
In other words this is one of the best solutions to get rid of from germs by stopping water leakage.

Because when the faucet leak water then so many germs and bacteria are born in that place and make the sink area dirty. That means the kitchen pots which will be washed in the sink area are not safe for us.
Thanks to the Pfister brand to solve this leakage problem and safe people from germs and bacteria.
Another cool feature in this model is it comes with a coordinating soap dispenser. You'll not need to purchase any additional dispensers.
The water that comes in the Pfister F5297JIGS Jovi 1-Handle Pull-Down is 100% safe for human health.
When it comes to its look the design is very unique and different from other models. Its pull design is also different in shape.
Lots of users gave good reviews of this model due to its best quality and great work.
Pros
Unique design
Long-lasting faucet
No tension in any type of spot since its spot defense quality
It comes with a soap dispenser
Safe drinking water
Cons
You'll have to buy additional tools to install this faucet
4: Pfister Zanna Kitchen Faucet F529EZN3GS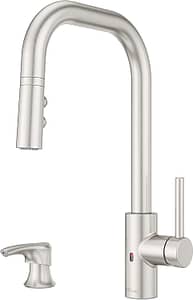 The Pfister Zanna Kitchen Faucet F529EZN3GS is a new collection faucet from Pfister. This model has made so many friends and lovers due to its great work and looks.
Although, this stainless steel faucet looks very simple but its contemporary curves and design give you the facility to wash large-size dishes in an easy way.
Also, the water spots and fingerprints will never show on the faucet since its Spot Defense finish feature.
The elegant forward handle shape makes the faucet more user-friendly.
The Zanna has a touchless feature so that it keeps on the top list when it comes to finding a stylish touchless kitchen.
This faucet provides safe water since it meets the U.S safe drinking water act. The water will be safe for drinking whatever it delivers.
An advanced ceramic disc valve technology is enough for giving a long-lasting performance to the buyers. This technology guarantees the users to deliver the water with free leakage operation.
Final words for this model: the Zanna is a stylish modern kitchen faucet that is a perfect design for this modern world.

Since mostly people have modern style kitchens which is why everyone wants to find the best stylish kitchen faucet.

With a decent style it has another amazing feature that has a trend in this time.

The faucet makes your every hard work easy by its touchless feature.

During reviewing this model, we saw many people have admired to this faucet.

If you buy this faucet definitely it will not be a bad choice.
Pros
One of the best touchless kitchen faucets with a soap dispenser, while other models come with only a touchless feature.
Modern-style kitchen faucets can be used in the large and small kitchen
It got almost good reviews from the users
A powerful magnetic dock that keeps holding the spray head when it doesn't in use
Cons
The handle may go lose after using some months
5: Pfister LG531YPK Ashfield Kitchen Faucet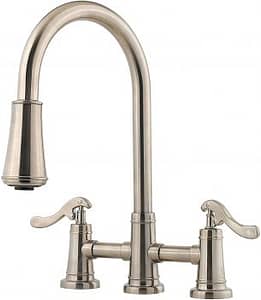 Another best option is to upgrade your kitchen with a new 2 handles kitchen faucet.
Yeah the Pfister LG31YPK Ashfield kitchen faucet is able to change the look of your kitchen.
No matter if your kitchen is not new but it still increases the beauty of any kitchen.
This faucet gives you flexibility during hot and cold weather.
Its 2 handles mean one for hot water which is used in cold weather and the other one is for normal water which is used in hot weather.
This model might be the best choice for those who have a mind for the vintage collection.
To install the Pfister LG531YPK, you'll have to dig 3 holes, and very easily all its fitting.
You can easily watch fruits and vegetables by using the sprayhead. Use the toggle button for using different modes and control the water flows.
One of the best features of this model is it allows you to adjust the water flow rates as you want.
Often we have to need high and low water flow during washing dishes and other kitchen pots.
You'll have to avoid any product that has acid in it, Also, use a polish abrasive cleaner, detergents, and organic solvents so that this modern kitchen faucet lasts a long time.
To be honest, when you'll use this model it'll be a good friend to you by providing good work.

Having the best water temperature indicators in 2 handle shapes, you'll always know which one is dedicated to hot water.

The design plays 2 roles since it looks like a modern style and also a vintage-style faucet.
Pros
Vintage style faucet
2 handles faucet that helps to understand hot and cold water sides
It complies with NSF/ANSI 372
Affordable in price
Cons
It needs 3 holes for installation
6: Pfister Shelton Kitchen Faucet FWKP701B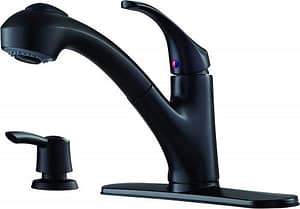 In this queue of the best Pfister kitchen faucets, the Pfister Shelton Kitchen Faucet FWKP701B has #6 place.
With a matte black color and unique finish, the Shelton is able to stand the additional beauty of your kitchen. This small and classic shape faucet always remains in new trend product.
Although it not have a new look but it'll never be old, you can't say about this faucet that it is an old model.
A small faucet gives you mobility and flexibility while washing kitchen pots.
No matter if you have to clean large-size dishes since it also comes with a sprayhead feature that helps you to wash the dishes easily. Since the spray head is equipped with a long hose that will give flexibility while doing kitchen work.
Shelton is designed with 1 handle that works very fast and easily adjusts water speed. However, this model can fill 1.8 gallons in a minute.
This is a good speed for a kitchen faucet and will be helpful while filling bottles quickly, or cleaning the heavy-duty greasy dishes and plates.
Our thoughts about this faucet are that if you have a tough place in your sink area, it will be the perfect choice for you.

This pull out kitchen faucet comes with a soap dispenser, which you can fill with liquid soap for washing hands or kitchen pots.

The Shelton is also a good choice to upgrade the kitchen faucet while you have a strict budget and you don't have to pay more.

This Pfister kitchen faucet delivers the water flow with 1.8 GMP that is still better than other brand's kitchen taps.

Small model with a pull-out handle that has indicators for water temperature.
Pros
A good option to upgrade your kitchen while a tough budget
It is designed to adjust your short place on the sink area
Having a powerful water stream and spray
Cons
It is not suitable for all kitchen sinks
7: Pfister Lita GT529-FLS Xtract Kitchen Faucet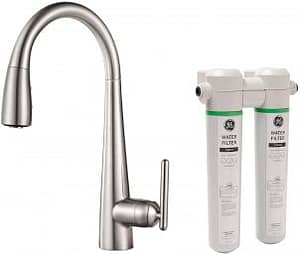 When you are afraid of dirty water, or you are in a place where you feel that the water is getting dirty.
In this case, the Pfister Lita GT529 – FLS Xtrack pull-down kitchen faucet can be very helpful for you.
Since this model comes with a water filter feature that ensures you supply clean and pure water so that you keep away from bacteria.
This Pfister faucet guarantees you to live a long life with happiness and health. The amazing thing of this model is it gives you two options in the water one is filter water for drinking, and 2nd is, normal water for washing and cleaning.
Not only do you keep away from bacteria this helps your kitchen pots to keep away from dirt and bacteria.
Its GE's filter system gives high flow rates during the filtration of the water. However, it delivers normal water with 1.8 GPM and filtered water with 1.0 GPM.
Besides that, having dual filter pumps that can easily recycle and keep filtering the water for at least 6 months.
Although, this comes with a filtration system, but it doesn't mean that it might be difficult to install the faucet.
Its fitting is the same as a simple kitchen faucet. Also, this model comes with an optional deck plate but it can fit with deckplate and without it.
Our opinion about this model is the Pfister Lita GT529-FLS Xtract Kitchen Faucet will be the best choice for those people who want to live a healthy life.

The faucet filters the water for drinking to keep save you from bacteria and germs.

Also, having a beautiful sleek design that will be suitable for the kitchen sink. Besides that, the faucet price is not high according to its features.
Pros
It gives you 2 types of water flow, filter water for drinking and normal water for washing and cleaning
Beautiful sleek design that can be installed in any sink
Powerful water flow that is good for heavy-duty cleaning
Price is very affordable compared to other brands
Cons
The handle may be stuck for sometime
Pfister's Brand History
Pfister, a brand synonymous with quality and innovation in plumbing fixtures, boasts a storied history that spans over a century. Established in the late 19th century, Pfister has earned a stellar reputation over the years for providing professional-grade products to customers worldwide.
The pivotal moment in Pfister's history came in 1950 with the introduction of the Crown Jewel line, which revolutionized the industry. This line not only featured easy self-installation but also offered a wider range of controls and improved hose nozzles, setting new standards for convenience and functionality.
In 1970, Pfister once again made waves in the industry by introducing translucent faucet handles, a design innovation that not only added style to homes but also highlighted the brand's commitment to pushing boundaries. These translucent handles remain popular and timeless in many households today.
Pfister's global footprint has expanded significantly, shipping its products not only within the United States but also to Canada and numerous international destinations. This global reach reflects the brand's dedication to delivering quality and innovation to a diverse range of customers.
Pfister has consistently been a trailblazer in incorporating eco-friendly systems and technological advancements into its products, staying at the forefront of sustainability and technology trends. By doing so, the brand ensures its fixtures not only meet contemporary standards but also contribute to resource conservation and improved user experiences.
A testament to Pfister's unwavering commitment to quality is its status as the first manufacturer in the industry to introduce a lifetime warranty. This warranty guarantees the finish and function of Pfister faucets for life, instilling confidence in customers and underscoring the brand's dedication to providing top-notch products.
5 Things that make Pfister brand Suitable Choice
During the review of Pfister kitchen faucets, we noted some factors which make them attractive. This is why many people try Pfister faucets in their kitchen after then they tried off other faucets.
So here we would like to share with you some common factors so that you can know about this brand.
Experience
Pfister is a very old company in the market. This company has been manufacturing faucets for more than 100 years.
They have experience of many years that build people's trust. These years of experience have learnt them how to facilitate their audience.
Pfister knows very well how to design a kitchen faucet that can adjust at any place in the kitchen.
This brand introduced so many styles of faucets that fall into the modern design category. Also, they made vintage-type faucets. There are so many stylish faucets in the market you will must like the Pfister kitchen faucet.
Modern & Vintage Design
Although Pfister is an old company but it still realizes people's trends.
However, we see there are many modern type faucets from Pfister in the market.
It means Pfister looks at people's desires and tries to fulfill their expectations this is why many folks like Pfister faucets in their kitchens and bathroom.
Despite making modern-style faucets, they also manufacture vintage collection faucets.
I saw some vintage-type faucets which are made with good quality and elegant designs.
If you need a faucet for your bathroom or kitchen you must check Pfister faucets so that you'll get good faucets in a responsible price.
The Best Quality
It doesn't matter how your brand is old if you don't make good quality products so you can't build trust in the market.
For the sake of people, Pfister provides the best quality products.
You'll not have any leakage issues in Pfister faucets.
Durning writing reviews I read out many people's reviews. They are satisfied with Pfister faucets this is why they give positive reviews to this company.
Easy to Install
Whenever you purchase a faucet then you have to need a plumber to install the faucet in your kitchen or bathroom.
Maybe it is not easy for everyone to install a faucet especially when we buy a modern-style faucet.
I think Pfister also focused on installing the faucet and making an easy way to fit it.
This is why we see despite style faucets this Brand's faucets are very easy to install. You'll not need to become a plumber or need a plumber.
This brand's faucets are very easy to install in any kitchen sink since you'll not need to hire any professional plumber to install the tap.
Responsible Price
No doubt Pfister provides the best quality bathroom and kitchen faucets as people want to have. Also, it has new and fashionable design faucets on the market.
Besides that, this company makes vintage collection-style faucets.
Pfister has some best quality and technology faucets at affordable prices. This brand is still good for people who can't afford the high price of faucets.
Why do we recommend buying a Pfister kitchen faucet?
Pfister kitchen faucets have gained popularity among consumers for their innovative features and commitment to enhancing the kitchen experience. Here's a detailed look at the valuable information behind these unique and amazing features:
Filtration System for Clean Water:
The company's faucets are equipped with advanced filtration systems that ensure the water you use is clean and safe for your family's health. These systems typically employ multi-stage filters to remove impurities, contaminants, and odors, providing you with fresh and safe drinking water directly from the tap. This feature not only saves you money on bottled water but also contributes to reducing plastic waste.
Smart Motion-Sensor Technology:
The inclusion of smart motion-sensor technology sets Pfister faucets apart. These sensors can quickly detect the presence of your hands or any object near the faucet and activate the water flow accordingly. This touchless operation adds convenience to your kitchen routine and promotes hygiene by reducing the risk of cross-contamination.
Automatic Shut-Off for Water Conservation:
These sink faucets are designed with an automatic shut-off feature, which helps prevent water wastage. After a set period of inactivity, the faucet will automatically turn off, ensuring that you're not unnecessarily using water. This feature saves water and contributes to lower utility bills and environmental conservation.
Powerful Water Flow:
Pfister kitchen faucets are known for their powerful water flow, making them ideal for tasks like cleaning greasy dishes and pans. The high flow rate ensures efficient and thorough cleaning, saving you time and effort in the kitchen. Additionally, the strong water flow is perfect for quickly filling bottles, pots, and gallons, adding to the overall convenience of the faucet.
Luxurious Design:
The brnad's faucets are not just functional; they also come with a luxurious design that can enhance the aesthetics of your kitchen. Their sleek and modern styles are designed to complement a wide range of kitchen sinks and decor. Installing a Pfister faucet can instantly give your kitchen a refreshed and upscale look.
Excellent Customer Service:
Pfister is known for its commitment to customer satisfaction. Their dedication to providing the best customer service ensures that you have a positive experience with their products. Whether you have questions, need assistance with installation, or encounter any issues, its responsive and knowledgeable customer support team is there to help, making you feel valued as a customer.
Conclusion – Does Pfister the best alternative?
Have you ever gotten the best product that has come to your expectations?
All of you know that it is very hard to find the right product that is be as our willing.
Maybe you can find the right as you want to buy since it is not an impossible way. But, you know this process may take you too much time.
This will be a surprise for everyone to get the desired product in a short time.
Yeah, this is the place where we have created the list of the best kitchen faucets that are manufactured by the most popular brand in the faucet market of 2023.
With at least 100 years of experience, Pfister knows the people's thoughts in this long time period.
The brand knows which types of faucets people like to buy and use in their kitchens.
This is why we see various types of kitchen faucets in the Pfister catalog including different sizes, shapes, and colors. Some gold kitchen faucets and oil-rubbed bronze kitchen faucets are very pretty.
We have picked these 7 models that are popular in the market, all of these have the best performance and amazing features.
If you want a new look for the faucet in your kitchen then you should pick our first model The Pfister LG534-LPMB Arkitek Kitchen Faucet. Well, each Pfister kitchen faucet on this list is best in performance and stylish in look!
FAQs
Are Pfister kitchen faucets good for the kitchen?
If you want to know about Pfister kitchen faucets and whether they are good or not, then the short answer is Yes.
Since Pfister brings new features and technologies to kitchen faucets this is why they have good value in the market due to their best performance.
What are some things I should know about Pfister kitchen faucets?
Pfister is known for its high-quality products, which means that you can expect the same quality from its kitchen faucets as well. They have a lifetime warranty on all their products, so if something goes wrong and it's not covered by their warranty, they will replace it free of charge—that's how confident they are in their product!
Q: Are there any special features or designs with Pfister kitchen faucets?
A: Pfister offers many different styles of kitchen faucets to choose from, including single-handle designs and even dual handles. They also have many different finish options available, so you can find something that matches perfectly with your décor.
Q: What is a Pfister kitchen faucet?
A: Pfister kitchen faucet is known for its high quality and durability. The faucets are made from nickel, and the handles are made from durable plastic. The spray heads can be adjusted to give you different spray patterns and water pressure.
Q: What is the best way to clean my Pfister kitchen faucet?
A: To keep your Pfister kitchen faucet looking new, you should clean it regularly by using warm water and a soft cloth or sponge. You should also avoid using abrasive cleaners or scouring pads on these types of faucets.
Q: Will my Pfister kitchen faucet last forever?
A: Yes! Pfister kitchen faucets are designed to last for many years without any problems. They have been tested and proven by many people over time, so they know what works best when it comes to keeping them in good shape over time.
Q: How do I install a Pfister kitchen faucet?
A: The Pfister kitchen faucet is easy to install, and it comes with a detailed installation guide that makes it even easier. The first step is to remove any existing handles or knobs from the sink, then turn off the water supply at the water meter. Using the included wrench and pliers, loosen the hose clamp on the cold water inlet valve. Unscrew this nut with a Phillips screwdriver, and then remove this nut with a socket wrench. Once you have removed both nuts, pull out the old faucet by hand and place it in a trash can.
Next, remove any remaining parts from your new faucet as instructed in your installation guide. Place them inside of their original boxes or plastic bags so they don't get damaged during shipping. Since these parts are fragile, be careful not to drop them or bump into anything while you're working on them! Once all of your parts have been removed from their boxes or bags, put them aside for safekeeping until installation time.
Now that everything has been removed from its original packaging and it's ready for installation, install each component according to its instructions until it installs perfectly.
What are the most important features of a faucet?
The most important features of any faucet are its durability, functionality, and style. If you're looking for something that's going to last for years without needing much maintenance, a high-quality stainless steel model will work best. If you're looking for something that's easy to use and doesn't require much maintenance, look into models with touch technology or motion sensors.
If there's one thing we recommend shopping around a little bit before committing to buying a particular model—especially if it's your first time buying a faucet—we would suggest finding out what other people have said about the product. This way, you'll know whether or not they have any complaints about their purchase experience and if there are any issues that could potentially arise during installation or use.
What is the cost of Pfister kitchen faucets?
The company provides very affordable price faucets, everyone can buy this brand's faucets easily.
They can be purchased at the cost of 150$ to 500$.
If you want to know about more brands then check our latest reviews on top different brands in 2023: