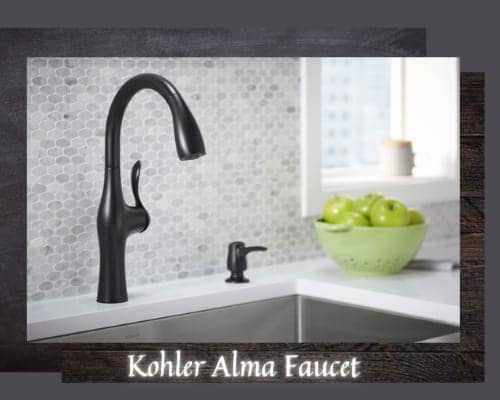 In this article, I have tried to take a deep glance at the Kohler Alma faucet to know how it is made, what is its quality, and how was the users experience this faucet.
If you're in the market for looking for a quality kitchen sink faucet this may be right for your place.
So please read our informative reviews!
A Short Overview of Kohler Alma Faucet
The Kohler Alma R45350 kitchen faucet, a striking embodiment of form meeting function, warrants a detailed examination for those seeking a faucet that marries convenience and beauty in the realm of kitchen fixtures. This exceptional piece of plumbing equipment boasts an array of features that simplify everyday tasks and elevate your kitchen's visual appeal.
One of the standout features of the Kohler Alma faucet is its retractable spray head, which sets the stage for a fluid and intuitive user experience. With a mere touch, you can effortlessly switch between two distinct modes: spray and stream. This functionality empowers users to adapt the water flow to the specific task at hand, whether it be rinsing delicate produce or tackling stubborn food residue on dishes.
To ensure that the spray head seamlessly retracts and securely locks into position, Kohler has integrated a magnetic docking system. This innovation not only adds a touch of sophistication to the faucet's design but also eliminates the frustration of dealing with a hose that refuses to cooperate. This magnetic docking technology ensures that the spray head glides smoothly and reliably into place, thereby mitigating common concerns about wear and tear over time.
For those who appreciate versatility and convenience in their kitchen tools, the Kohler Alma faucet truly shines. Its pull-down spray head offers not just two modes, but a unique transition between stream and sweep spray options with the simple press of a button. This feature, coupled with Kohler's proprietary DockNetik magnetic system, keeps the spray head securely in place when not in use. No more tugging or wrestling with a drooping spray head; it elegantly stays where it belongs.
In addition to the primary faucet functions, the Kohler Alma R45350 comes complete with a matching soap/lotion dispenser. This thoughtful inclusion ensures that your countertop remains uncluttered and that the essentials for meal preparation and cleanup are always within arm's reach.
But what truly sets the Kohler Alma faucet apart is its attention to detail. The faucet is equipped with angled nozzles, a seemingly small yet significant feature. These nozzles are designed to optimize cleaning performance with minimal effort. Even the most stubborn residues on dishes and cookware are effectively tackled, saving you time and energy in the kitchen.
Furthermore, the spout of the Kohler Alma faucet is engineered for ease of use. Its effortless rotation allows you to direct the water flow precisely where you need it. This feature is especially valuable for larger sinks or when multitasking in the kitchen. Whether you're washing, rinsing, or filling large pots, the spout adapts to your needs, making daily kitchen activities a breeze.
Features of this Kohler kitchen faucet
Elegant Design with Matte Black Color
The Kohler Alma Pull-Down Kitchen Faucet is a testament to the marriage of form and function. Its elegant design, dressed in a dignified matte black finish, instantly draws the eye. This is more than just a utilitarian fixture; it's a statement piece for your kitchen.
The first thing that strikes you is the faucet's soaring stature. It rises above the sink, standing tall and proud, as if reaching for the heavens. This lofty resting height is not merely a matter of aesthetics; it serves a practical purpose. It provides ample space beneath the spout, making it effortless to fill or clean even the largest of pots and pans. This faucet embodies both grace and utility, a rare combination in the world of kitchen fixtures.
The base of the Kohler Alma faucet, though slim and unobtrusive, exudes an air of strength. It's a reassuring foundation that supports the tall, slender neck, promising durability and reliability. Its industrial aesthetic is a nod to precision and engineering, reminiscent of a well-crafted piece of machinery.
One cannot overlook the faucet's exposed coil design, which adds a dash of character and intrigue to an otherwise refined appearance. The exposed coil, with its intricate, helical structure, evokes images of vintage fire hoses or antique industrial equipment. It's a refreshing departure from the ordinary and a conversation starter in itself.
Beyond its visual allure, the matte black coating of the Kohler Alma faucet is a practical marvel. It's not just about style; it's about substance. This finish not only lends a sophisticated, modern look but also offers remarkable ease of maintenance. It resists the stubborn buildup of mineral deposits that can plague other faucets, ensuring a steady, clean stream of water over time. Moreover, it is surprisingly resilient against scratches, making it an ideal choice for a high-traffic area like the kitchen.
Functionality for hot and cold water
The Kohler kitchen Faucet is a modern marvel of plumbing design, boasts a dual functionality that caters to the distinct demands of hot and cold water. This exquisite fixture, replete with a hose for both hot and cold water lines, offers a seamless connection to the very heart of our home, our plumbing system. It is a testament to the pursuit of convenience and ease in our daily lives.
The process of installing this faucet is nothing short of a revelation in user-friendliness. As someone who has undertaken numerous faucet installations in the past, I can unequivocally state that the Kohler Pull-Down Faucet installation was a breath of fresh air. Its simplicity defied expectations, turning what is often a cumbersome chore into a breeze.
From the moment I unboxed this innovative creation, it was evident that Kohler had designed it with the user in mind. The accompanying hoses, meticulously crafted for hot and cold water, provided a clear and intuitive solution for connecting to our plumbing system. The instructions, thoughtfully detailed, guided me through each step with grace and precision.
As I embarked on the installation journey, I couldn't help but marvel at the engineering brilliance behind this faucet. The seamless integration of the hot and cold water hoses into the faucet body was a stroke of genius. It eliminated the need for convoluted connections or excessive tools, streamlining the entire process.
The installation itself was a delightful experience, characterized by its straightforwardness. It's rare to encounter a home improvement task that doesn't leave you feeling a sense of trepidation, but this faucet defied convention. Within a short span of time, I had successfully connected it to our water supply, and the faucet was ready to unleash its remarkable capabilities.
Powerful Spray Grip and Leak Free
The Kohler Alma Pull-Down Faucet stands as a testament to exceptional design and engineering, boasting a powerful spray grip and a leak-free performance that truly captivates those who operate it. This faucet transcends mere functionality, emerging as a harmonious blend of durability, craftsmanship, and aesthetics.
The hallmark of this remarkable fixture is its sprayer, secured in place by a magnetic docking station of remarkable strength. This magnetic allure ensures that the sprayer never sags or dangles, maintaining its poised and elegant stance. With the Kohler Alma Faucet, there's no untimely descent of the sprayer to disrupt your kitchen's visual appeal or your convenience during daily tasks.
What's equally impressive is the handle's unwavering fortitude. Whether you're turning it on or shutting it off, you can trust in its sturdiness. The Kohler Alma Faucet's handle is a paragon of reliability, steadfastly refusing to drip even after it has served its purpose. This unwavering commitment to leak-free operation not only adds to the faucet's convenience but also safeguards against the wastage of precious water.
The Kohler Alma Faucet's ceramic disc valves represent a triumph of engineering. These valves, meticulously crafted and polished to perfection, stand guard against the erosive forces of corrosion and rust. It's not just about enduring the rigors of daily use; it's about excelling in this test of endurance.
In fact, the Kohler Alma Faucet doesn't merely meet industry durability requirements; it exceeds them by at least two-fold. This faucet is not a mere addition to your kitchen; it's an investment in the future. When you choose the Alma Faucet, you're selecting a fixture that promises longevity, a promise backed by its unyielding construction and the finesse of its design.
Sweep spray technology
In the world of modern faucets, the Kohler Alma faucet is a shining example of innovation and practicality. Among its array of impressive features, the standout is the "sweep spray" mode. This unique function transforms your ordinary faucet into a workhorse of efficiency, changing the way you use water in your kitchen.
The sweep spray mode isn't just another mundane addition; it's a real game-changer. Think of it as a powerful, wide blade of water bursting forth with a commanding presence. This is what the sweep spray technology provides, and it's a game-changer when it comes to handling your everyday kitchen tasks.
Consider the everyday chore of cleaning dishes after a hearty meal. With a simple flip of a switch, the sweeping water blade springs into action. Its forceful flow envelops your dishes in a rush of water, swiftly removing food scraps and grime. No more tedious scrubbing or stubborn food bits; the sweep spray takes care of it all, leaving your dishes gleaming and saving your hands from the drudgery of scrubbing.
But the utility of the sweep spray mode isn't limited to dishwashing; it also excels in sink cleaning. Stubborn stains and lingering messes in your sink stand no chance against the power of this sweeping blade. With remarkable precision, you can direct the water exactly where it's needed, ensuring every corner of your sink gets the attention it deserves. No more struggling with a scattered and ineffective spray; now, you wield the control and precision of a water blade.
What sets the sweep spray mode apart from the typical aerated shower stream is its ability to put you in charge. It's all about taking control of your water flow, turning it into a precise tool for your daily tasks. The forceful stream means you spend less time and effort on chores that once felt monotonous, freeing you to focus on what truly matters.
Single lever handle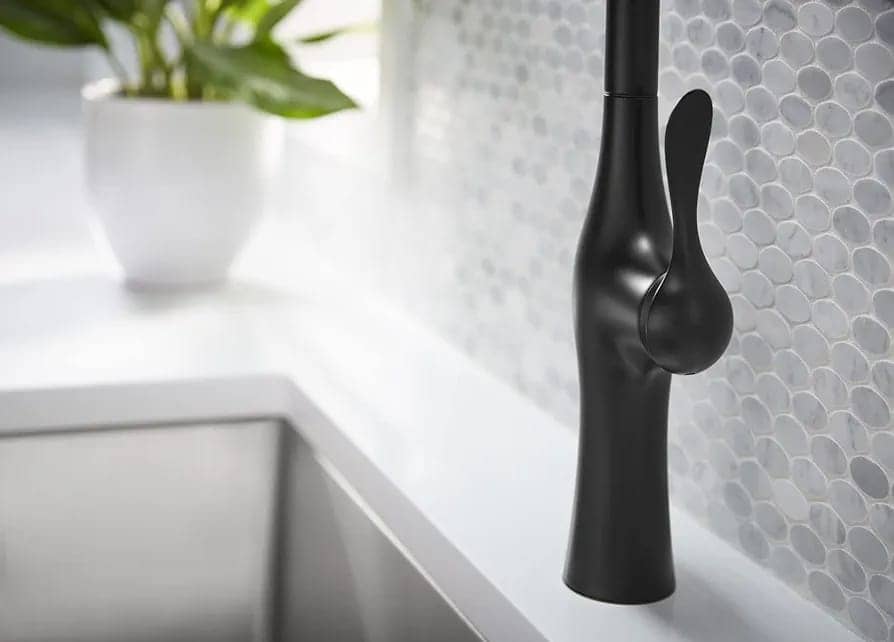 The Kohler Alma kitchen faucet is a shining example of simplicity and efficiency. Its single lever handle, located on the right-hand side, offers an easy way to control water flow and adjust the temperature. You won't find any complicated mechanisms here, just a smooth and intuitive operation that elevates your daily kitchen routine.
But this faucet offers more than just simplicity. It features a two-function spray head, making it a versatile tool in your kitchen. With a simple pull, it can switch between a steady stream for filling pots and a sweeping spray for those tough cleaning tasks, adapting to your culinary needs with ease.
With a flow rate of 1.8 gallons per minute, the Kohler Alma faucet ensures a steady and substantial water supply for all your kitchen activities. Whether you're washing dishes or cooking up a storm, this faucet can keep up without a hitch.
The pull-down sprayer is attached to a durable braided line and can swivel at various angles, making it easy to reach every corner of your sink. It's a feature that simplifies your tasks and adds a touch of sophistication to your kitchen.
One notable advantage of this faucet is its high-pressure water delivery, which makes cleaning a breeze. Whether you're dealing with stubborn food residue or giving the sink a scrub, the high-pressure spray provides the force you need.
Kohler understands that in the world of kitchen faucets, both aesthetics and functionality matter. They prioritize advanced technology in their products, ensuring that their faucets not only look good but perform exceptionally well. Choosing the Kohler Alma means bringing an elegant design and advanced technology into your kitchen, creating an experience you can appreciate every day.
High Arc makes work easy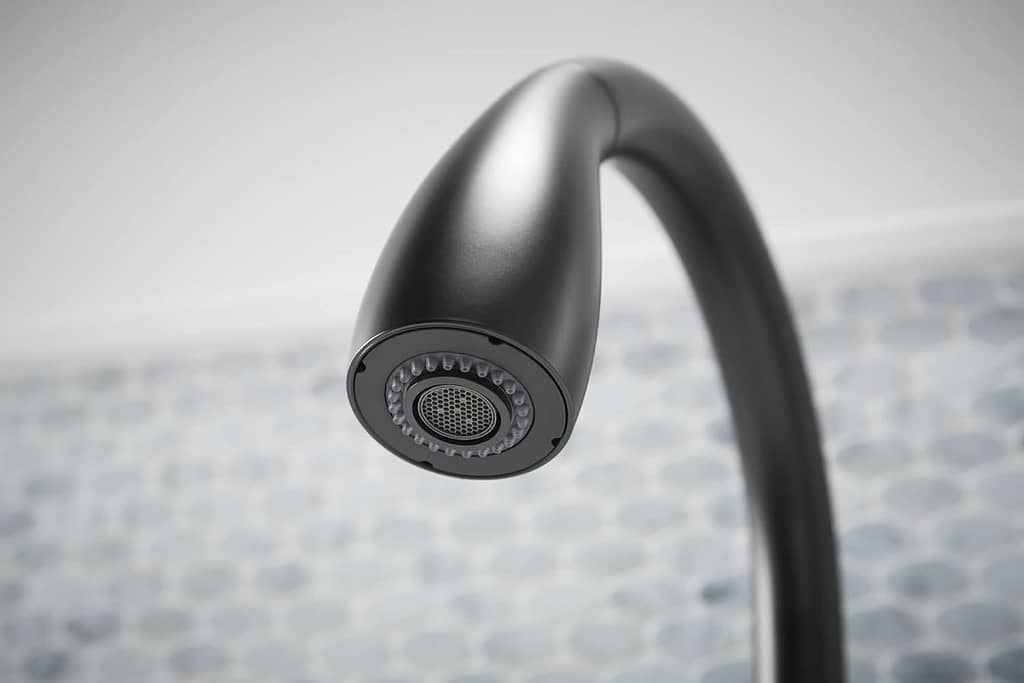 The Kohler Alma kitchen faucet's high arc design is a game-changer when it comes to simplifying kitchen chores. Standing at 10 inches in height, it's a real asset, especially for handling large pots and oversized cookware. You'll find that cleaning these bulky items is a breeze because the ample space provided by the high arc allows you to effortlessly position them beneath the faucet.
What's more, the pull-down head of the faucet is another standout feature that elevates your overall kitchen experience. It gives you the power to spray and wash every corner of your sink with precision. Whether you're rinsing delicate glassware or tackling tough stains in the sink's hard-to-reach areas, the pull-down head provides the agility you need for thorough and efficient cleaning.
But the faucet's versatility doesn't stop there. If you have a double basin sink or need to temporarily move the faucet out of the way for any reason, you'll appreciate its ability to swivel. This handy feature adds an extra layer of convenience, allowing you to adjust the faucet's position to suit your specific needs. It's a considerate design feature that caters to the practical aspects of a real kitchen.
When you examine the internal hose, visible when you take down the sprayer, it's evident that Kohler has placed a strong emphasis on durability. The hose has a robust look and feel, assuring you that it can handle the demands of everyday use. This durability not only instills confidence in the faucet's long-term performance but also reflects the meticulous attention to detail that Kohler has invested in ensuring the faucet is built to endure.
Conclusion
To be honest, if you're in search of a faucet that embodies power, grace, and resilience, the Kohler Alma Pull-Down Faucet is the one for you. It's a testament to enduring quality, an ode to flawless operation, and a symbol of timeless beauty that will grace your kitchen for years to come. When you choose the Kohler Alma, you choose excellence that stands the test of time.
Kohler Alma faucet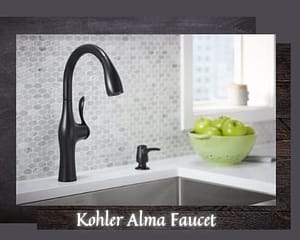 The Kohler Alma faucet is a good model for use in the kitchen, It has a beautiful design and color. The water flow is very good for daily tasks, even the spray hose is also large and flexible.
Product Brand: kohler
Product In-Stock: InStock