We've curated a list of the 9 best gold bathroom faucets that seamlessly blend functionality with exquisite design, promising to transform your daily routine into a glamorous experience.
Also, this list also beneficial for those people who have tough budget because we picked some top quality models that come with reasonable price.
Join us as we explore the perfect fusion of style and functionality in the realm of bathroom decor.
1: Delta Arvo Gold Bathroom Faucet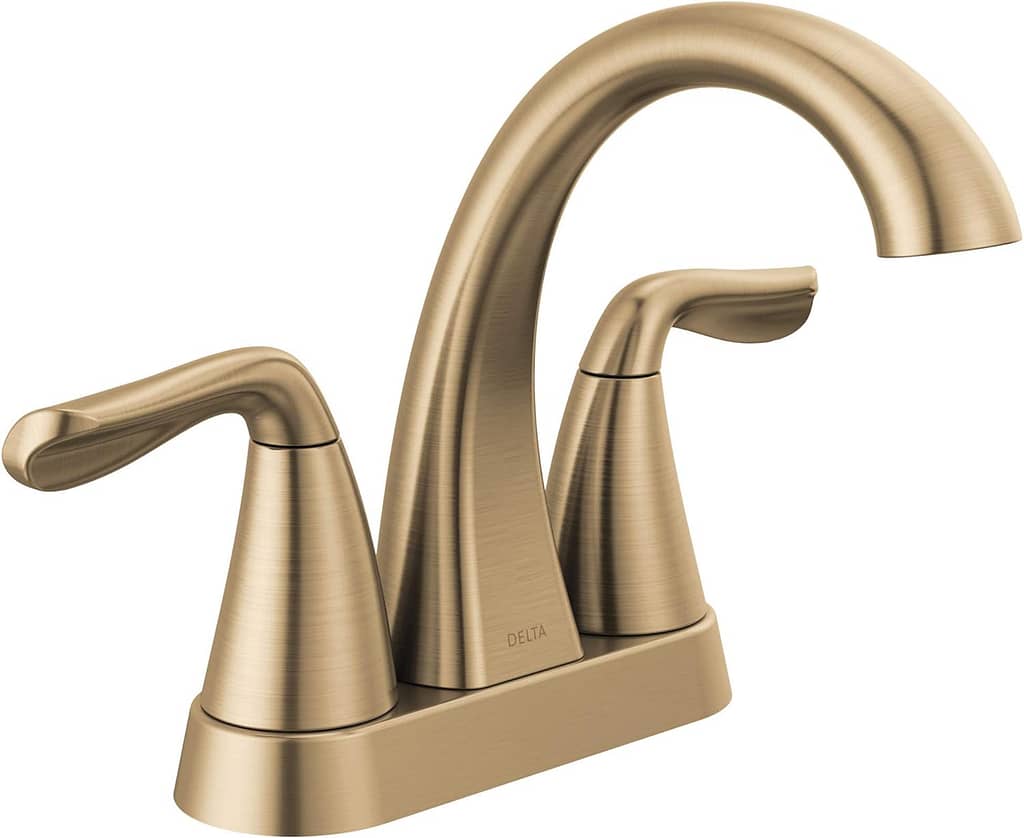 The Delta Arvo Gold Bathroom Faucet is our top pick for a multitude of reasons that make it the number one choice on our list. This faucet has garnered acclaim for its exceptional ratings, exquisite aesthetics, and unwavering commitment to premium quality.
It's designed with user convenience in mind, this 2-handle bathroom faucet is crafted to effortlessly fit into 3-hole, 4″ centerset configurations. Catch away from the hassles of complex installation processes.
Delta takes pride in its commitment to water conservation. The Delta Gold Bathroom Faucet is WaterSense labeled, meaning it uses at least 20% less water than the industry standard. This not only helps you save on your water bill but also contributes to a sustainable future without compromising on performance.
The faucet is equipped with 1/4 turn handle stops, this Delta faucet ensures effortless control and precision in water flow and temperature adjustments. It's designed for user convenience down to the smallest details.
In a thoughtful gesture, Delta has included a coordinating Champagne Bronze bathroom sink drain assembly in the package. This not only adds to the faucet's visual appeal but also streamlines your shopping experience.
With 1/2 in. -14 NPSM threaded male inlet shanks and a minimum recommended clearance of 2-1/2 in. to the backsplash, this faucet is versatile and fits seamlessly into a wide range of bathroom configurations, all while optimizing your available space.
It's important to note that standard bathroom faucet supply lines are not included with the product and must be acquired separately for the installation to be completed successfully. This ensures that you have the flexibility to choose the supply lines that best suit your needs.
When you choose this Delta Bathroom Faucet, you're making an investment backed by Delta Faucet's Lifetime Limited Warranty. This means you can install it with complete confidence, knowing that you have a reliable and durable fixture in your bathroom that's built to stand the test of time.
Pros:
A perfect match for every bathroom
Easy to use and operate
Handles are perfect
Easy installation
Cons:
2: Moen Voss Brushed Gold Bathroom faucet
The Moen Voss Brushed Gold Bathroom Faucet earns a well-deserved spot as our second choice among the top 10 best bathroom faucets. It's a remarkable model, boasting an array of high-quality features that make it an excellent addition to any bathroom. However, there's one aspect that led us to position it as our runner-up, and that's its price tag.
What truly sets this faucet apart is its stunning brushed gold finish. This finish combines rich, warm tones with intricate texturing, creating a timeless and elegant look that can elevate the aesthetics of your bathroom effortlessly.
Functionality-wise, the Moen Voss faucet doesn't disappoint either. Its two-handle lever design ensures that adjusting the water temperature and flow rate is a breeze. This practicality extends to its 4″ centerset configuration, which makes installation a straightforward process.
Moreover, this gold bathroom faucet 3 hole goes above and beyond by complying with the Americans with Disabilities Act (ADA) specifications, ensuring that it's accessible to a wide range of users.
When it comes to performance and longevity, the Moen gold bathroom faucet truly shines. The LifeShine® finish not only adds to its aesthetic appeal but also guarantees unparalleled durability. It's engineered to resist tarnishing, corrosion, or flaking, ensuring that this faucet will stand the test of time.
In an era of increasing environmental consciousness, this faucet also does its part by meeting EPA WaterSense® criteria. It effectively conserves water without compromising on performance, making it an eco-friendly choice for your bathroom.
To top it off, Moen backs this faucet with a limited lifetime warranty, providing you with peace of mind about your investment. It also complies with current legislation, including ab1953 in California and s152 in Vermont, further emphasizing its quality and reliability.
Pros:
Eye-catching color, it'll look very beautiful in your bathroom
Meets EPA WaterSense
ADA COMPLIANT
Cons:
3: KOHLER Taut Gold Bathroom Faucet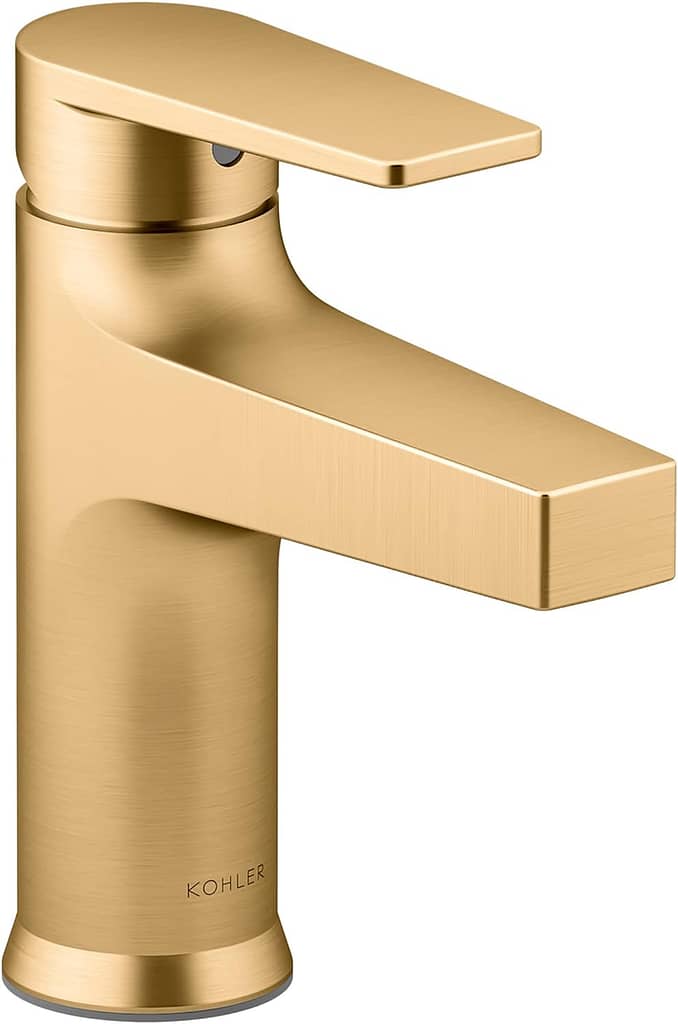 The KOHLER Taut Gold Bathroom Faucet is an embodiment of style, function, and uncompromising quality. This single-handle bathroom sink faucet represents a true testament to the artistry and innovation behind Kohler's designs, promising to not only enhance the aesthetics of your powder room but also deliver unparalleled performance.
With meticulous precision, the Taut faucet boasts a single-lever handle that houses a leak-free ceramic disc valve, surpassing industry standards for both longevity and performance.
The result? A faucet that transcends time, offering you a fixture of unwavering reliability for years to come. The exquisite Vibrant Brushed Modern Brass finish adds an element of sophistication to your bathroom, making a bold statement of refined taste.
Upon unboxing the Taut Kohler gold bathroom faucet, you'll discover a fixture with an impressive 3-15/16″ (100mm) spout reach, providing ample space for all your daily tasks. With a maximum flow rate of 1.2 gallons per minute (4.5 liters per minute) at 60 psi (4.14 bar), it strikes a harmonious balance between water conservation and functionality.
For your convenience, flexible supply lines come pre-installed, streamlining the installation process, and making it considerably more straightforward. Should you require an escutcheon plate, it's available separately, offering you the flexibility to customize the faucet to your exact specifications.
KOHLER's unwavering commitment to design excellence is vividly evident in this faucet. It has been meticulously crafted to complement a wide array of bathroom sinks, vanities, RVs, and any bathroom remodeling project. Whether your taste leans towards the modern or classic, the Taut faucet boasts the versatility to seamlessly integrate into your space.
What sets this brass gold bathroom faucet apart is the unwavering confidence you can have in your purchase. It is backed by KOHLER's Lifetime Limited Warranty, a testament to the brand's confidence in its premium lasting finishes that ensure your faucet remains corrosion and tarnish-resistant throughout its lifetime. This reflects Kohler's dedication to upholding the highest standards of quality and customer satisfaction.
In terms of certifications, the Taut faucet proudly bears the WaterSense certification and meets EPA criteria for water efficiency. Furthermore, it is registered with the California Energy Commission (CEC), reaffirming its commitment to sustainability and environmental responsibility
Pros:
Best single-handle bathroom faucet
Sleek design and unique color
Just need a single hole to install it, which means you can install it yourself
High rated model
Cons:
4: Pfister Willa Gold Bathroom Sink Faucet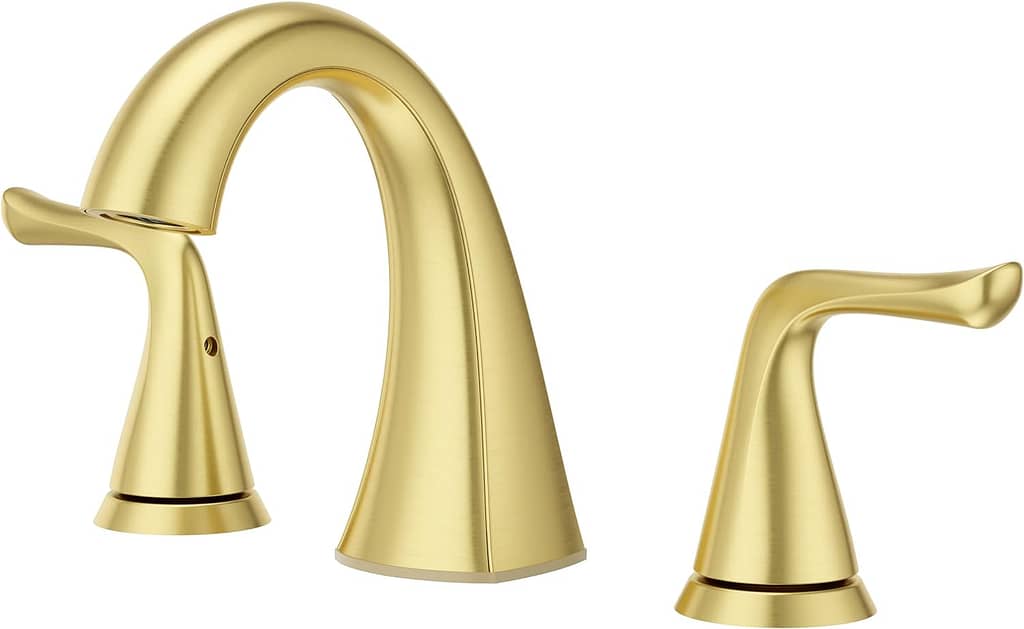 The Pfister Willa Gold Bathroom Sink Faucet is a stunning addition to your bathroom that not only enhances your space but also brings functionality to a whole new level. Crafted with meticulous attention to detail and a commitment to quality, this faucet embodies the epitome of modern bathroom fixtures.
Designed as a widespread bathroom sink faucet, the Pfister gold bathroom faucet features three distinct pieces – two gracefully curved handles and an elegant spout. Perfectly suited for bathroom sinks or vanity tops with three holes spaced at least six inches apart, it comes complete with a valve and cartridge for seamless operation.
One of the standout features of this remarkable faucet is its innovative Push and seal Drain. With a simple press, it effortlessly seals, ensuring a watertight seal every single time. Opening it is just as easy, requiring nothing more than a gentle touch.
Say goodbye to the hassle of traditional pop-up drains that often require tools and can be time-consuming. With the Pfister Willa, installation is a breeze, taking less than half the time of standard pop-up drains.
But the convenience doesn't stop there. The Pfister Willa boasts Pfast Connect technology, which significantly reduces installation time and guarantees a secure connection to your water supply lines. No need for complicated procedures or messy putty – this faucet has you covered. It even includes a handy Quick Install Tool, making the installation process even more straightforward.
Furthermore, the TiteSeal mounting technology ensures a snug fit without the need for putty or silicone. Whether you choose to mount it on your sink deck or countertop, this faucet's 3-hole installation design accommodates your preferences with ease.
In terms of dimensions, this brush gold bathroom faucet measures a refined 14.99 x 10.64 x 5.88 inches and weighs a mere 4.52 pounds. Its sleek and compact design doesn't compromise on performance, making it a perfect choice for both style and practicality in your bathroom.
The Pfister Willa Gold Bathroom Sink Faucet is not just a fixture; it's a testament to Pfister's commitment to excellence and innovation. Elevate your bathroom experience with this elegant and efficient faucet – a true embodiment of luxury and functionality.
Pros:
It will not leak for a long time
Both handles operate smoothly
Suitable water flow
Cons:
Need plumber to install it
5: Delta Nicoli Gold Bathroom Faucet
Transform your bathroom into a haven of contemporary elegance with the Delta Nicoli Gold Bathroom Faucet. This exquisite addition to the Delta Nicoli bath collection has been meticulously designed to not only enhance the visual appeal of your space but also bring a sense of modern sophistication to your bathing experience.
Crafted with a discerning eye for design, the Delta Nicoli faucet seamlessly blends sleek lines and graceful contours, creating a masterpiece that is as much a work of art as it is a functional fixture. Its aesthetic allure is undeniable, but there's so much more beneath the surface.
When you opt for the Delta Nicoli, you're not just selecting a faucet; you're choosing a product that exudes confidence and assurance. The reason lies in Delta's unwavering commitment to quality, as exemplified by their Lifetime Limited Warranty. This faucet is a testament to the brand's dedication to excellence.
What truly distinguishes the Delta Nicoli from its counterparts is its WaterSense® label, a symbol of its water-saving prowess.
Designed to consume a remarkable 20% less water than the industry standard, it not only conserves our precious resource but also shaves off dollars from your water bills.
And here's the truly remarkable part – this conservation in no way compromises performance. With the Delta Nicoli, you get to enjoy a faucet that is not just eco-friendly but also high-performing, making it a true standout in the world of faucets.
The adaptability of the Delta Nicoli single hole gold bathroom faucet is another star feature. Users who have had the pleasure of installing this faucet firsthand can't stop singing its praises.
It's incredibly easy to install, whether you have one, three, or four holes at your disposal. This remarkable flexibility ensures that the Delta Nicoli can seamlessly integrate into a wide range of bathroom setups, making it a practical choice for all types of users.
But perhaps the most remarkable feature of this faucet is its water flow. Users consistently laud the Delta Nicoli for its impressive water flow, making it an ideal choice for bathrooms of any size. Even in smaller bathrooms where space is at a premium, the Delta Nicoli stands out, guaranteeing you a steady and satisfying stream of water whenever you need it.
What users frequently praise, is the size of its water line. This feature is not commonly found in other faucet models, giving the Delta Nicoli a distinctive edge. With a generous water line, you'll experience a more abundant and robust flow of water, thereby enhancing your overall bathroom experience.
Pros:
Most users said it is the best faucet
Eye-catching and easy-to-use design
Its single handle work smoothly and easy to adjust
The price is also reasonable
Cons:
The pop drain is made of plastic
6: Aqua Vista 15-B42WP-PB-AV Two Handle Bathroom Faucet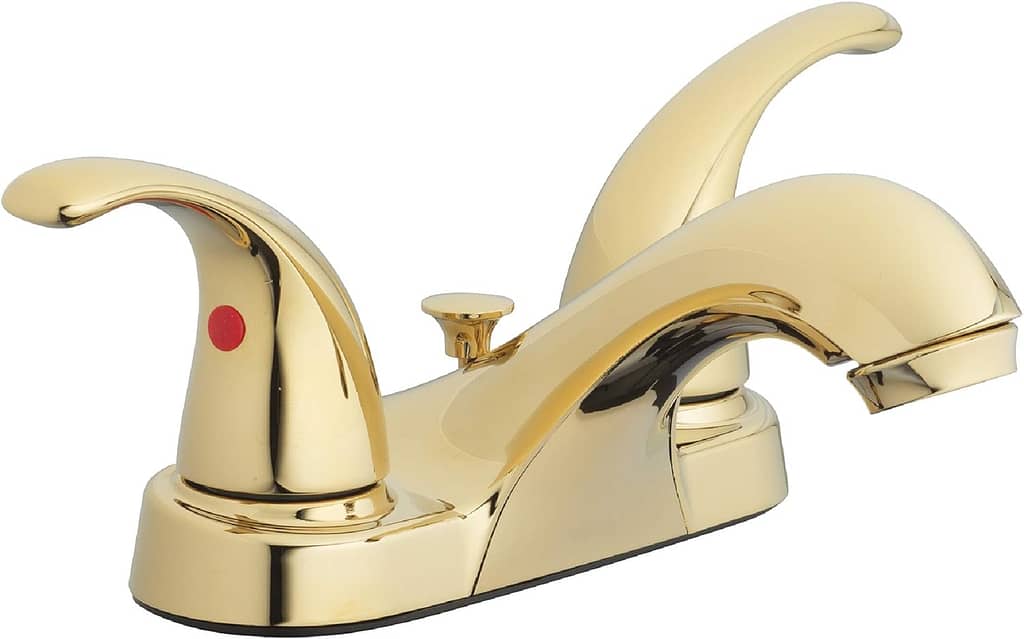 Meet the Aqua Vista 15-B42WP-PB-AV Two-Handle Bathroom Faucet—an impeccable fusion of style and practicality tailored for your private haven. Say goodbye to the constant irritation of dripping faucets, thanks to its state-of-the-art washerless disc cartridge ensuring a consistently drip-free experience that stands the test of time.
Enhance your bathroom's visual appeal with the chic Polished Brass finish and a gracefully curved minimalist design. This decorative two-handle faucet effortlessly complements a wide range of bathroom décors, injecting a touch of modernity into your space.
Indulge in both sophistication and eco-friendliness, boasting a 1.2 GPM flow rate that meets WaterSense criteria. Experience the seamless blend of water conservation without compromising on performance. The washerless disc cartridge not only prevents leaks but also reinforces the faucet's overall durability.
Take charge of your water's temperature with precision, thanks to the two stylish lever handles designed for easy and accurate adjustments. The 4-inch centerset gold bathroom faucet and low-arc spout provide ample space for your handwashing needs, seamlessly combining functionality with aesthetic charm.
This 3-hole bathroom faucet is equipped with a 1/2-inch connection and is suitable for deck mount sinks. The Quick Install pop-up drain assembly ensures a swift and straightforward setup, saving you valuable time and effort.
Rest assured in the quality and craftsmanship of Aqua Vista products. The company's steadfast commitment to meeting regional, national, and international industry standards guarantees a dependable addition to your bathroom. Embrace the evolution of your space with confidence because, in the world of Aqua Vista, excellence isn't just a benchmark—it's a commitment.
Pros:
One of the best faucets at under $37
Perfect choice for a small bathroom
Beautiful design
Cons:
It may not be good for large size bathroom
7: KRAUS Indy Single Handle Basin Bathroom Faucet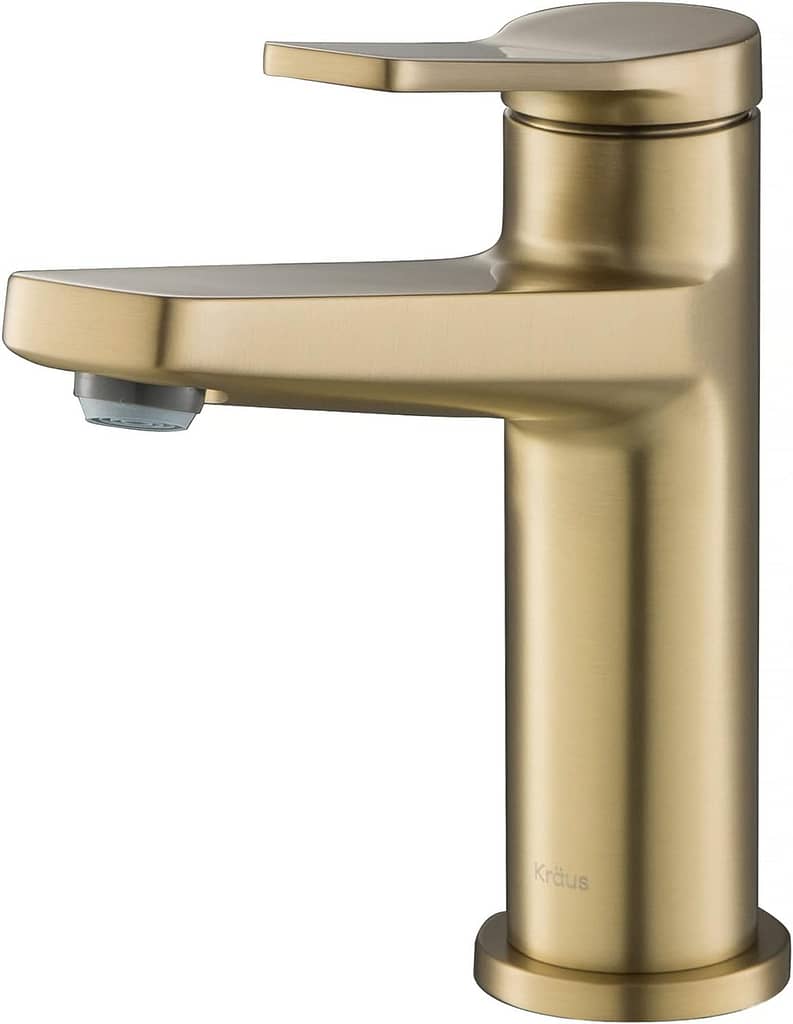 If you're looking for a single-handle gold bathroom faucet then you can try our # 7th faucet. Because this KRAUS Indy Single Handle Basin Bathroom Faucet is also a perfect blend of contemporary design and timeless elegance. The streamlined silhouette of this sink faucet creates a clean and uncluttered aesthetic, seamlessly integrating into any décor with understated charm.
Crafted with precision, the round faucet body gracefully transitions into a crisp linear spout, delivering a refined look that exudes sophistication. The slim single-lever handle offers effortless temperature and flow control, ensuring a user-friendly experience every time.
Experience unparalleled durability with premium components, including a best-in-industry aerator and a leak-free ceramic cartridge, guaranteeing a lifetime of flawless functionality.
This Kraus faucet is available in basin and tall vessel models, providing maximum design flexibility to suit your unique preferences. Installation is a breeze with pre-attached water lines, simplifying the process and saving you valuable time.
Choose from a range of stunning finishes to customize the look of your bathroom oasis. Opt for the corrosion-resistant finish that won't fade or tarnish over time, or indulge in the SPOT-FREE all-Brite STAINLESS STEEL FINISH to prevent water spots and fingerprints.
Other options include Matte Black, Spot-Free all-Brite Stainless Steel/Matte Black, and Brushed Gold, allowing you to tailor the faucet to your individual style.
Not only does this KRAUS gold bathroom faucet elevate your bathroom's aesthetic, but it also champions eco-friendliness. With a commitment to water conservation, this faucet utilizes 20 percent less water than the average, contributing to a more sustainable environment. The high-performance adjustable aerator further enhances the experience, offering a soft and splash-free stream for your convenience.
Embrace the sleek modern style of the Indy faucet, characterized by its streamlined simplicity that effortlessly complements any bathroom decor. For added convenience, the faucet is compatible with the Kraus pop-up drain PU-11 and can be easily installed with any basin or undermount sink, ensuring a cohesive and stylish bathroom transformation.
Upgrade your space with the KRAUS Indy Single Handle Basin Bathroom Faucet, where form meets function in a harmonious blend of style and performance.
Pros:
Easy to use, clean, and install
Reasonable price
Its aerator is easy to remove for cleaning
Cons:
8: ORLANDO Black and Gold Bathroom Faucet
The ORLANDO Black and Gold Bathroom Faucet is our 8th model that gives a modern touch in bathrooms. Handcrafted from solid brass, this faucet is a testament to resilience, effortlessly warding off rust and corrosion, ensuring a lasting, enduring addition to your sanctuary.
Its unique brushed gold and matte black finish, meticulously plated with multiple layers, not only elevates the faucet's aesthetics but also acts as a fortress against tarnishing. Complying with cUPC/CEC/ANSI standards and being 100% lead-free, this single-handle beauty is your assurance of safe and uncontaminated water use.
The single handle is a breeze to operate, housing a smooth and leak-free ceramic valve core material. Boasting an impressive handle travel of 100 degrees, it affords you precise control over water flow and temperature. The cartridge's extraordinary ability to open and close over 600,000 times is a guarantee of its longevity and unwavering reliability.
Experience a soothing and targeted water flow, thanks to the Swiss Neoperl aerator. It creates soft, gentle bubble streams while preventing unwelcome splashes.
The faucet comes bundled with 27.5-inch hot and cold supply lines, featuring PEX inner tubes certified by North American NSF. These supply lines are resistant to chemical corrosion, rust, and cracks, promising you long-term service and peace of mind.
Installation couldn't be more straightforward, with a versatile design that accommodates both 1-hole and 3-hole installations. The vanity faucet even includes a deck plate to seamlessly cover holes 6 inches wide, ensuring a polished, unblemished look. Pre-installed supply lines and a drain assembly make the installation process a breeze, with a hole size range of 1.38 to 1.5 inches.
With the added assurance of a limited lifetime warranty, the ORLANDO Black and Gold Bathroom Faucet stands as a testament to its quality and enduring durability.
ORLANDO's attentive customer service team is dedicated to ensuring your contentment, readily addressing any questions or technical needs that may arise. Place your trust in the modern design and unswerving performance of our bathroom faucet to infuse your home with unmatched value and style. Elevate your bathroom experience with ORLANDO – the epitome of excellence in faucets.
Pros:
Modern bathroom faucet
It needs only one hole to fix in your sink
Eye-catching color and design
Cons:
9: SOKA 2 Handle Gold Bathroom Faucet Gold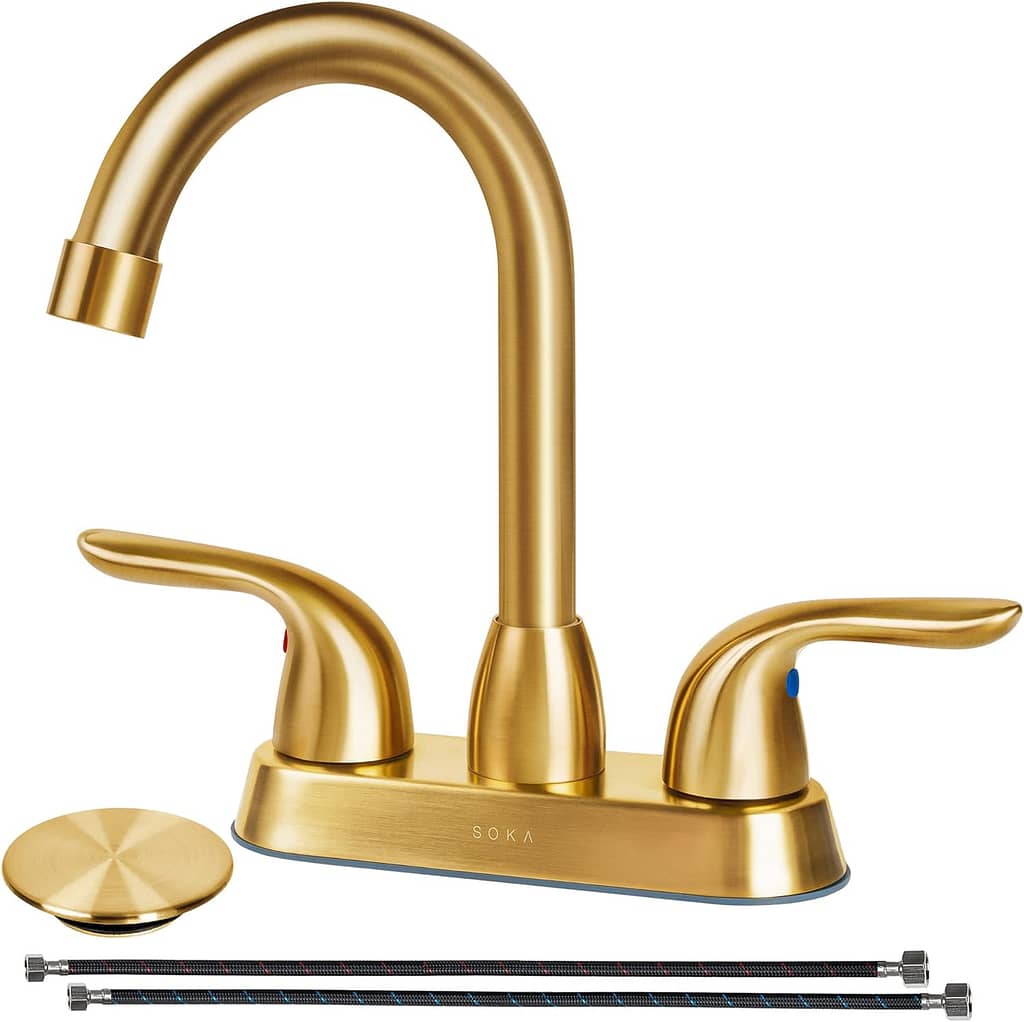 Allow us to introduce the SOKA 2-Handle Gold Bathroom Faucet, a masterful fusion of style and substance that elevates your bathroom experience beyond the ordinary. With a design that marries elegance and function, this bathroom fixture transcends the mundane.
Equipped with dual handles, each adorned with gracefully designed metal levers, this faucet offers a seamless water control experience, allowing you to precisely adjust the temperature to your liking. What truly sets it apart is its ingenious 90° forward rotation capability, making it an ideal choice for even the tightest of spaces, eliminating the need for extra clearance at the back.
Meticulously crafted from resilient stainless steel and finished with a multi-layer brushed nickel coating, this faucet is built to withstand the test of time. It effortlessly resists tarnishing and corrosion, retaining its luster even after continuous daily use. Its sturdy construction, featuring all-metal connector components and a premium ceramic valve, not only guarantees durability but also meets stringent low-lead requirements, placing a premium on safety and quality.
Designed for a straightforward 3-hole installation and compatible with 4-inch centersets, this faucet comes complete with comprehensive and user-friendly installation instructions, as well as quick-connect features, simplifying the setup process and making it accessible to homeowners of any expertise level.
Yet, this faucet's charm extends beyond its aesthetic appeal. It boasts a 360° rotation function that significantly enhances its cleaning reach and efficiency. With this feature, you can effortlessly reach every corner of your basin, ensuring a thorough and immaculate cleanliness. What's more, it incorporates a discreet lift rod at the back, enabling you to control the drain stopper without direct contact, introducing a hygienic aspect to your daily routine.
Pros:
Best faucet at low cost
The finish is very shiny
High arc bathroom faucet
Cons:
It may not be easy to install
Design looks vintage
What to look while buying a gold bathroom faucet?
Gold finishes can vary in appearance and characteristics, and here are some key differences:
1. Polished Gold:
Characteristics: This finish is known for its high sheen, providing a glossy and reflective surface that resembles a mirror.
Maintenance Aspect: While exuding opulence, polished gold requires meticulous maintenance due to its susceptibility to fingerprints and water spots. Regular cleaning is essential to preserve its radiant appearance.
2. Brushed Gold:
Characteristics: Featuring a textured, matte surface, brushed gold exudes sophistication with a subdued allure. The brushing process creates fine lines that add depth and visual interest.
Maintenance Aspect: Resistant to fingerprints and water spots, brushed gold offers a practical solution for those seeking an elegant finish without the constant need for upkeep.
3. Antique or Aged Gold:
Characteristics: Crafted to emulate a weathered or aged look, antique gold often incorporates darker undertones or a patina effect, contributing to a sense of history and charm.
Ideal Setting: Perfect for vintage or rustic aesthetics, this finish imparts a timeless quality to the bathroom, creating a space that feels lived-in and curated.
4. Matte Gold:
Characteristics: Embracing a flat, non-reflective surface, matte gold delivers a modern and sleek appearance, eschewing the shine associated with polished finishes.
Maintenance Aspect: Its matte nature makes it adept at concealing fingerprints and water spots, offering both style and practicality for a contemporary bathroom setting.
5. Champagne Gold:
Characteristics: With a slightly warmer and softer tone than traditional gold, champagne gold introduces subtle hints of pink or peach undertones, imparting a delicate and versatile aesthetic.
Versatility: This nuanced finish accommodates various design styles, allowing it to seamlessly integrate into both modern and classic bathroom environments.
6. Rose Gold:
Characteristics: Sporting a pinkish hue with warm tones, rose gold brings a trendy and modern flair to the bathroom, infusing a touch of femininity and contemporary elegance.
Aesthetic Impact: Ideal for those seeking a fashionable and distinctive look, rose gold complements a range of color schemes and materials.
7. Oil-Rubbed Bronze with Gold Highlights:
Characteristics: Merging the classic appeal of oil-rubbed bronze with subtle gold accents, this finish creates a unique and sophisticated appearance, combining traditional and modern elements.
Aesthetic Harmony: Perfect for individuals seeking a balance between timeless design and contemporary trends, this finish adds a layer of visual interest to the bathroom.
8. Polished Brass:
Characteristics: A classic and bright gold finish, polished brass exudes a timeless elegance. Often, it features a lacquered coating for enhanced durability and prolonged luster.
Preferred Styles: Popular in traditional or vintage-style bathrooms, polished brass brings a sense of grandeur and richness to the space.
9. Satin Gold:
Characteristics: Resembling brushed gold but with a smoother texture, satin gold strikes a balance between the reflective nature of polished finishes and the matte quality of brushed ones.
Aesthetic Harmony: Less reflective than polished gold, satin gold finds its place in bathrooms aiming for a harmonious blend of modern and traditional aesthetics.
10. PVD Gold:
Characteristics: Standing for Physical Vapor Deposition, PVD gold represents a durable, high-tech finish that resists scratches and tarnish, ensuring a long-lasting and uniform appearance.
Technological Advantage: Beyond its aesthetic appeal, PVD gold offers advanced protection, making it an excellent choice for those prioritizing durability and performance in their bathroom fixtures.
When choosing a gold finish for your bathroom, consider the overall style of your space and personal preferences. The diverse options allow you to find the perfect gold finish to complement your bathroom decor.
Conclusion
Selecting the best gold bathroom faucet involves a careful consideration of both style and functionality. The curated list of the 9 best gold bathroom faucets provides a range of options to suit various preferences, ensuring a touch of luxury and elegance in your bathroom space.
Whether it's modern minimalism or classic sophistication, these faucets combine aesthetic appeal with reliable performance, offering a golden opportunity to enhance your bathroom decor with a touch of opulence.
FAQs
Are all gold bathroom faucets look same?
No, not all gold bathroom faucets look the same. Gold faucets come in various styles, finishes, and designs. The shade of gold can differ, ranging from polished and shiny to brushed or matte finishes. Additionally, the shape and features of the faucets can vary, offering a wide range of options to suit different bathroom aesthetics and preferences. It's advisable to explore various models and collections to find a gold bathroom faucet that aligns with your specific taste and bathroom decor.
Q: Are gold bathroom faucets durable?
A: Yes, the durability of a gold bathroom faucet depends on the quality of materials used and the finish. High-quality finishes can resist tarnishing and corrosion, ensuring long-lasting durability.
Q: Can gold faucets match different bathroom styles?
A: Absolutely, gold faucets come in various designs and finishes, making them versatile enough to complement a range of bathroom styles, from modern to traditional.
Q: Will the gold finish tarnish over time?
A: Quality gold finishes are designed to resist tarnishing, but it's essential to follow care instructions and avoid abrasive cleaners to maintain the appearance of the faucet.
Q: Are gold bathroom faucets more expensive than other finishes?
A: Gold finishes may be more expensive than some other finishes due to the materials and processes involved. However, prices can vary, and there are affordable options available.
Q: Can I mix gold faucets with other finishes in the bathroom?
A: Yes, mixing finishes can create a stylish and eclectic look. However, ensure a cohesive design by choosing finishes that complement each other.
Q: Can I upgrade my existing bathroom faucet to a gold one?
A: In many cases, yes. Ensure compatibility by checking the faucet's installation requirements and whether it matches your existing plumbing setup. Consulting a plumber may be helpful for a smooth transition.